Rear Admiral Morisetti, the UK's Climate and Energy Security Envoy, visits New York
This week Rear Admiral Neil Morisetti, the UK's Climate and Energy Security Envoy, visited New York and New Jersey to discuss the national security implications of climate change with media, think tanks, legislators and officials.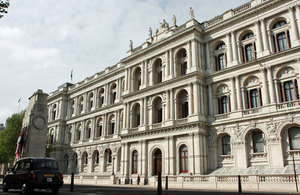 The highlight of the visit was the Rear Admiral's participation in a symposium, Climate Change: The Threat and Opportunity for Global Security at the American Museum of Natural History. The symposium, an associated program to the Race to the End of the Earth, discussed the environmental challenges facing the Polar Regions and the earth and their impact on national and global security.
The panel moderator Andrew Nagorski (EastWest Institute), questioned Vice Admiral Dennis McGinn (ret) (CNA Military Advisory Board), Dr Anthony Broccoli, co-director of the Climate and Environmental Change Initiative and director of the Center for Environmental Prediction (Rutgers University) and Rear Admiral Morisetti on why the military was involved in the issue.
Rear Admiral Morisetti explained that although climate change is unlikely to be the direct cause of conflict, it will act as a "threat multiplier" in the regions already experiencing multiple stresses. Many of these regions have the potential to impact the UK's interests and security perhaps through trade routes or migration. Dr Broccoli highlighted the opportunities by reminding the audience of previous technological advancements made through military investment such as the internet. Vice Admiral McGinn said that there was never 100% certainty on the battlefield, and it was sensible to prepare for climate change even if it is not definite what the impact or the causes are. The symposium attracted approximately 150 people from business, media, academia and civil society, and the substantial Q&A period reflected a high level of interest on the part of the audience.
Earlier in the week the Rear Admiral engaged with New Jersey state legislators and government officials. The Admiral educated stakeholders on the security risks arising from climate change, discussed preparedness for climate-related extreme weather events, and explored opportunities in the clean energy economy.
British Consul-General Sir Alan Collins reflected on the impact of Rear Admiral Morisetti's visit, saying "a changing climate will affect our safety and will impact on the planning and preparedness of our armed forces. It is critical for the US and the UK to utilize our strong partnership and tackle this issue together. As Vice Admiral McGinn said, it is clear that business as usual is unacceptable".
From New York, Rear Admiral Morisetti will travel to Boston, Massachusetts and Columbus, Ohio, where he will continue to engage the US on this important topic.
Listen to the symposium [MP3, new window]
Morisetti discusses global security at AMNH symposium
Photos: R. Mickens, AMNH
Search the news archive
Published 23 June 2010