Press release
Reappointments to the Natural England Board
Catherine Graham-Harrison OBE and Andrew Wilson have been reappointed to the Board of Natural England, the body responsible for enhancing and…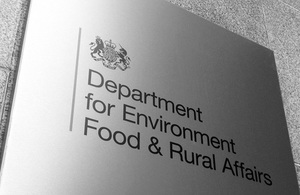 Catherine Graham-Harrison OBE and Andrew Wilson have been reappointed to the Board of Natural England, the body responsible for enhancing and managing the natural environment, by Richard Benyon, Natural Environment and Marine Minister.
Catherine Graham-Harrison and Andrew Wilson are reappointed for a further period of three years from 1 January 2012.  Ms Graham-Harrison will receive a remuneration of £12,136 a year for 37 days work.  Mr Wilson will receive a remuneration of £11,152 a year for 34 days work.
The reappointments have been made in accordance with the Code issued by the Commissioner for Public Appointments.
All reappointments are made on merit and political activity plays no part in the selection process.  However, in accordance with the original Nolan recommendations, there is a requirement for appointees' political activity (if declared) to be made public.  None of the individuals mentioned above have declared any political activity during the past five years.
Biographies
Catherine Graham-Harrison OBE has worked as a management consultant, mainly in the not for profit sector, since 1994.  Previously she was a Vice-President of Citibank and then Chief Executive of the Paul Hamlyn Foundation.  She has held a large number of non-executive positions over the past 20 years including as a trustee of the Joseph Rowntree Foundation, and as a board member of the Heritage Lottery Fund.  She is Chair of the National Forest (a Ministerial appointment attracting a remuneration of £13,305) and a member of the National Trust Architecture Panel.  She has been a Member of the Natural England Board since 1 January 2009.
Andrew (Andy) Wilson has been Chief Executive of the North York Moors National Park Authority since March 2000.  He previously worked at the Northumberland National Park.  Earlier in his career he worked for the Campaign for the Protection of Rural England (CPRE) and the Royal Society for the Protection of Birds (RSPB).  He is a member of the RSPB and was a member of the Yorkshire and Humber Assembly Sustainable Development Board until April 2009.  He has been a Member of the Natural England Board since 1 January 2009 and does not hold any other Ministerial appointments.
Published 2 December 2011