Reappointment to the Board of the Royal Botanic Gardens (RBG), Kew
Professor Jonathan Drori has been reappointed to the Board of Trustees of the Royal Botanic Gardens, Kew, by Lord Taylor of Holbeach.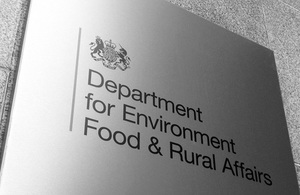 This appointment will run until 31 July 2015 and has been made in accordance with the Code issued by the Commissioner for Public Appointments. All appointments are made on merit and political activity plays no part in the selection process.
Trustees do not receive any direct remuneration for their services, although reasonable travel and subsistence expenses can be reimbursed.
The Royal Botanic Gardens, Kew, is an Executive Non-Departmental Public Body created under the National Heritage Act 1983, sponsored by Defra and which operates under a Board of Trustees.
The Board of Trustees for the Royal Botanic Gardens, Kew, comprises a Chairman and 11 members. Ten members and the Chair are appointed by the Secretary of State. Her Majesty the Queen appoints her own Trustee on the recommendation of the Secretary of State. 
Biography
Professor Jonathan Drori CBE FLS FZS MIET FRSA
Professor Drori has combined creative understanding of audiences and business with enthusiasm for science and technology. He now advises large organisations on outreach, media and technology strategy.
Jon has been a Trustee of the Royal Botanic Gardens, Kew, since 2006. He is also a Trustee of The Woodland Trust and Wildscreen and is Chairman of the UK Parliament's Speaker's Advisory Council on Public Engagement, RBG Kew Enterprises, and the Wingate Foundation. He is a Visiting Industrial Professor at Bristol University, specialising in misconceptions in science and the educational uses of technology.
He previously worked at the Department for Culture Media and Sport, as Director of Culture Online, and was the Head of Commissioning for BBC Online and an Executive Producer of more than 50 popular science and education TV series.
He was made CBE in December 2006.
Published 15 August 2012