Reappointment to the Board of the Royal Botanic Gardens, Kew
Marcus Agius has been reappointed as Chairman of the Board of Trustees of the Royal Botanic Gardens, Kew, by Environment Secretary, Owen Paterson.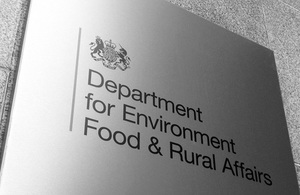 The appointment will run until 25 October 2015 and has been made in accordance with the Code of Practice issued by the Commissioner for Public Appointments. All appointments are made on merit and political activity plays no part in the selection process.
Trustees do not receive any direct remuneration for their services, although reasonable travel and subsistence expenses can be reimbursed.
The Royal Botanic Gardens, Kew, is an Executive Non-Departmental Public Body created under the National Heritage Act 1983, sponsored by Defra and which operates under a Board of Trustees.
Biography
Marcus Agius is currently Chairman of Barclays PLC, where he will remain in post until 31 October 2012, having spent six years in that role with the Bank. Previously Mr Agius was Chairman of BAA plc.  He spent 34 years working at Lazard and became Chairman of Lazard's UK operation in London in 2001.
Published 30 October 2012