News story
Reappointment of the chair of the Natural Environment Research Council
Mr Willetts said: "I am delighted that Mr Wallis has agreed to remain as Chair of the Natural Environment Research Council for three more years…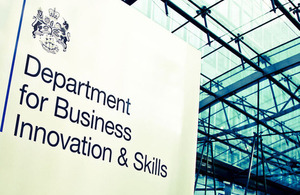 Mr Willetts said:
"I am delighted that Mr Wallis has agreed to remain as Chair of the Natural Environment Research Council for three more years. He is a successful Chair, where his leadership skills and wide board level experience has been of great benefit to the Council."
Ed Wallis said:
"Chairing the NERC Council for the past four years has been most interesting and enjoyable and I am delighted to be reappointed to this role. I look forward to helping NERC continue to deliver the excellent science for which it is renowned, and to face the challenges that lie ahead."
The reappointment is for three years from 1 January 2011.
Notes to editors
---
Mr Wallis' reappointment has been made in accordance with the requirements of the Code of the Commissioner for Public Appointments.

Ed Wallis was Chairman of WS Atkins from January 2005 to January 2010 having retired from Powergen in August 2003, where his final role was that of Chairman and Chief Executive. He is a Member of the Board of Directors, Birmingham Royal Ballet and a Governor of the Royal Ballet School. He qualified in Electrical Engineering at the University of Aston in 1962 and in General Management Studies at Henley Management College in 1978. He was awarded the Honorary Degree of Doctor of Technology by Brunel University and Doctor of Science by Aston University. He is a Companion of the British Institute of Management and a Fellow of the Royal Academy of Engineering. In line with the other Research Council Chairs, Mr Wallis receives an honorarium of £16,430. He holds no other Ministerial public appointments.

All appointments are made on merit and political activity plays no part in the selection process. However, in accordance with the Nolan recommendations there is a requirement for appointees' political activity to be made public. Ed Wallis has not been involved in any relevant political activities in the last five years.

The Natural Environment Research Council's (NERC) mission is to gather and apply knowledge, improve understanding and predict the behaviour of the natural environment and its resources. NERC funds research in universities and in its own research centres. The work it funds covers the full range of atmospheric, earth, terrestrial and aquatic sciences - from the depths of the oceans to observing the Earth from satellites in space. It works with many national and international partners, for example, the Met Office, the European Space Agency and NASA. NERC supports about 1,200 academic researchers in the HEI sector, and around 1,000 PhD students. NERC itself employs around 2,650 staff, the bulk of which are in its wholly owned centres. NERC's Chief Executive is Professor Alan Thorpe.

For media enquiries contact Rachel Clarke, BIS press office on tel: 18002 020 7215 5945 or email: rachel.clarke@bis.gsi.gov.uk

BIS' online newsroom contains the latest press notices, speeches, as well as video and images for download. It also features an up to date list of BIS press office contacts. See http://www.bis.gov.uk/newsroom for more information.
Notes to Editors
Contact Information
Name BIS Press Office Job Title
Division COI Phone
Fax
Mobile
Email NDS.BIS@coi.gsi.gov.uk
Published 30 September 2010