Press release
Reappointment of Science and Technology Facilities Council Chair
Professor Sir Michael Sterling reappointed as the Chair of the Science and Technology Facilities Council (STFC).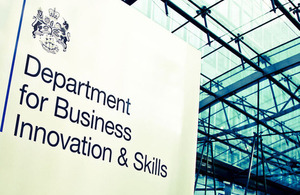 Minister for Universities and Science David Willetts today announced the reappointment of Professor Sir Michael Sterling as the Chair of the Science and Technology Facilities Council (STFC).
David Willetts said:
I am delighted that Professor Sir Michael Sterling has agreed to remain as Chair of the Science and Technology Facilities Council. His extensive knowledge and experience make him a vital asset to the council and will help ensure it remains at the forefront of scientific research and discovery.
Sir Michael said:
I am honoured to have been asked to chair the Science and Technology Facilities Council for a further four years. During my first term as Chair I have been witness to many great scientific developments and discoveries including the announcement of the finding of the Higgs-like particle. I look forward to seeing what new discoveries our research staff and academic community bring to light in the next four years.
The reappointment is for four years from 1 August 2013 until 31 July 2017.
Notes to editors
1. This reappointment has been made in accordance with the requirements of the Code of the Commissioner for Public Appointments.
2. Sir Michael's first term as STFC Chair began on 01 August 2009 and runs to 31 July 2013. His remuneration on re-appointment as Chair of STFC will be £24,645 for 36 days per annum.
3. All appointments are made on merit and political activity plays no part in the selection process. However, in accordance with the Nolan recommendations there is a requirement for appointees' political activity to be made public. Sir Michael has not been involved in any relevant political activities in the last five years. Sir Michael holds one other public appointment as a member of the Prime Minister's Council for Science and Technology which is an unpaid position.
4. Professor Sir Michael Sterling is an engineer by background. Prior to joining STFC he was Vice-Chancellor at Birmingham University (2001-2009) and was previously Vice Chancellor at Brunel University (1990-2001). His earlier career was at the University of Durham and the University of Sheffield. He has been a member of the Council for Science and Technology since 2004 and is Chair of its energy and water subgroups. He was Chair of the Russell Group of the 20 leading UK Universities from 2003 to 2006. He was a member of the Council of the Royal Academy of Engineering from 2005-08 and was President of the Institution of Electrical Engineers from 2002-03.
5. The Science and Technology Facilities Council is keeping the UK at the forefront of international science and tackling some of the most significant challenges facing society such as meeting our future energy needs, monitoring and understanding climate change, and global security.
The Council has a broad science portfolio and works with the academic and industrial communities to share its expertise in materials science, space and ground-based astronomy technologies, laser science, microelectronics, wafer scale manufacturing, particle and nuclear physics, alternative energy production, radio communications and radar.
STFC operates or hosts world class experimental facilities including: * in the UK; ISIS pulsed neutron source, the Central Laser Facility, and LOFAR. STFC is also the majority shareholder in Diamond Light Source Ltd. * overseas; telescopes on La Palma and Hawaii
It enables UK researchers to access leading international science facilities by funding membership of international bodies including European Laboratory for Particle Physics (CERN), the Institut Laue Langevin (ILL), European Synchrotron Radiation Facility (ESRF) and the European Southern Observatory (ESO).
STFC is one of seven publicly-funded research councils. It is an independent, non-departmental public body of the Department for Business, Innovation and Skills (BIS). The Council distributes public money from the Government to support scientific research.
Follow us on Twitter @STFC_Matters
6. The government's economic policy objective is to achieve 'strong, sustainable and balanced growth that is more evenly shared across the country and between industries'. It set four ambitions in the 'Plan for Growth' (PDF 1.7MB), published at Budget 2011:
To create the most competitive tax system in the G20
To make the UK the best place in Europe to start, finance and grow a business
To encourage investment and exports as a route to a more balanced economy
To create a more educated workforce that is the most flexible in Europe.
7. Work is underway across government to achieve these ambitions, including progress on more than 250 measures as part of the Growth Review. Developing an Industrial Strategy gives new impetus to this work by providing businesses, investors and the public with more clarity about the long-term direction in which the government wants the economy to travel.
Published 22 January 2013