News story
Reappointment of Industrial Development Advisory Board Members
The IDAB provides independent advice to the Government on large investment decisions and public investment in major projects in England. The…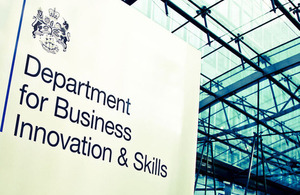 The IDAB provides independent advice to the Government on large investment decisions and public investment in major projects in England. The IDAB covers industry, banking, accountancy and finance.
Mark Prisk said:
"The IDAB plays a vital role in helping the Government make the right choices on large investment decisions. It helps the Government drive growth in the economy by ensuring that taxpayers' money is spent on successful projects that create jobs and boost local economies.
"I look forward to continuing to work with the board on ensuring that public investments in industrial projects have the best possible impact."
Mark Seligman was appointed to the board as chairman in December 2008. Simon Collins, George Rose, Paul Mullins and William Lazarus were appointed to the board as members in December 2008.
The IDAB provides advice on large investment decisions, particularly applications to the Grant for Business Investment (GBI) scheme and the Regional Growth Fund (RGF).
The RGF is a £2.4 billion fund operating across England. It supports projects and programmes that lever private sector investment creating economic growth and sustainable employment. The board advises on RGF projects of potential national significance.
Notes to editors:
---
IDAB is a statutory body set up under Section 10 of the Industrial Development Act 1982 to advise the Secretary of State on the exercise of his powers under Sections 7 and 8 of that Act, which cover the provision of selective financial assistance to industry.

All IDAB appointments are part-time and unpaid.

For more information on the board, including current membership, please visit: http://www.bis.gov.uk/policies/economic-development/industrial-development-advisory-board

Simon Collins is the global head of the Transactions and Restructuring practice of KPMG. Mr Collins has a background in investment banking (with SG Warburg and NatWest Markets) and in debt markets, particularly with large corporate loans and buy-outs.

George Rose is Non Executive Director and Chair of the Audit Committee at National Grid plc and Vallares plc. He is also Non Executive Director of Saab AB, former CFO and Board member at BAE Systems plc and former Non Executive Director of Orange plc and Airbus S.A. Previously George held various finance positions at Leyland vehicles, Rover and Ford Motor company.

Paul Mullins is the Chief Executive of European operations for DC Advisory, a member of the Daiwa Group. He formerly headed the European Global Industries and Natural Resources group at Bank of America. He worked for many years at Schroders and subsequently at Citigroup. He is a fellow of the Chartered Institute for Securities & Investment and a member of The Ownership Commission.

William Lazarus has over twenty years' experience of serving on the boards of private equity backed and publicly quoted companies all of whom have had operations in both the UK and overseas.

BIS's online newsroom contains the latest press notices, speeches, as well as video and images for download. It also features an up to date list of BIS press office contacts. See [http://www.bis.gov.uk/newsroom](http://www.bis.gov.uk/newsroom) for more information.
Notes to Editors
Contact Information
Name BIS Press Office Job Title
Division COI Phone
Fax
Mobile
Email NDS.BIS@coi.gsi.gov.uk
Name James Platt Job Title
Division Department for Business, Innovation and Skills Phone 020 7215 5978 Fax
Mobile
Email james.platt@bis.gov.uk
Published 1 March 2012