Press release
Reappointment of Independent Assessor of Compensation for Miscarriages of Justice
Dame Janet Smith DBE has been reappointed as the Independent Assessor of Compensation for Miscarriages of Justice – a position she has held since July 2011.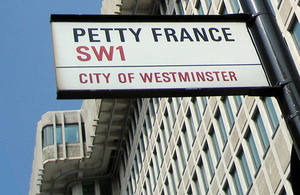 The Secretary of State for Justice, Chris Grayling said:
'I am grateful that Dame Janet has accepted the offer to extend her appointment. She has already demonstrated the knowledge and experience that is required in such an important role and I am glad that she will be continuing to give us the benefit of her expertise.'
Her new tenure will come into effect from 1 July 2013 and run until the end of November 2015.
Note to editors
The Independent Assessor of Compensation for Miscarriages of Justice is appointed by the Secretary of State for Justice, under section 133 of the Criminal Justice Act 1988. The Assessor's role is to gauge the amount of compensation to be paid once Ministers have decided that the eligibility criteria are met.
Neither Ministers or officials play any role in the assessment of compensation. Under Section 133 (4) once the Secretary of State determines that there is a right to such compensation, the amount of the compensation shall be considered by the Assessor.
The Assessor plays no role in deciding whether an applicant is eligible for compensation, that falls solely to the Secretary of State under Section 133(3).
Background information Dame Janet Smith
Dame Janet Smith DBE has extensive experience of the assessment of damages in personal injury litigation and was nominated for the role of Independent Assessor for Miscarriages of Justice by the Lord Chief Justice of England and Wales.

Dame Janet Smith was born on 29 November 1940. She was called to the Bar in 1972 and became a QC in 1986. She was appointed Recorder of the Crown Court in 1988 and was a Member of the Criminal Injuries Compensation Board from 1988-92.

Dame Janet was appointed a High Court Judge in 1992 where from 1994 she was also a judge of the Employment Appeal Tribunal before becoming a Presiding Judge in 1995.

She was Chairman of the high-profile Shipman Inquiry, and between 2000 and 2004 was also Chairman of the Civil Committee of the Judicial Studies Board.

She became only the fourth Lady Justice of Appeal in 2002 and retired from her role as an appeal court judge in May 2011.

On 11 October 2012, she was appointed by the BBC to lead an inquiry into the Jimmy Savile sexual abuse charges.
Published 11 June 2013