Press release
Reappointment of Economic and Social Research Council Chair
Minister for Universities and Science David Willetts today announced the reappointment of Dr Alan Gillespie CBE as the chair of the (ESRC)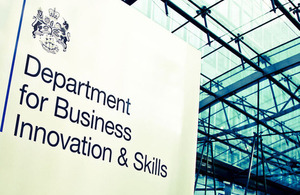 Minister for Universities and Science David Willetts today announced the reappointment of Dr Alan Gillespie CBE as the chair of the Economic and Social Research Council (ESRC).
David Willetts said:
I am delighted that Dr Alan Gillespie has agreed to remain as chair of ESRC. His public and private sector experience as well as his successful academic career make him very well placed to serve the council.
Alan Gillespie said:
I am honoured to be invited to chair the Economic and Social Research Council for a further four years. During my first term, the ESRC has come through a critical time introducing new initiatives and schemes to ensure it meets the strategic challenges set out in its delivery plan.
So far in my time as chair of the ESRC I am pleased at the scope, quality and impact of research being funded, proving the vital role that social science has in our society.
I look forward to continuing my work with the council and management team in setting the agenda for policy-relevant research over the coming years.
The reappointment is for four years which will run from 10 June 2013 until 9 June 2017.
Notes to editors
1.This reappointment has been made in accordance with the requirements of the Code of the Commissioner for Public Appointments.
2.Dr Gillespie's first term as ESRC chair runs from 10 June 2009 to 09 June 2013. His remuneration for this position is £16,430 for on average 24 days per annum. He does not hold any other public appointments.
3.Dr Gillespie was born in Northern Ireland and educated at the University of Cambridge where he gained his BA, MA and PhD. His Doctoral thesis was entitled "Growth Centres and regional economic development in Northern Ireland". His banking career began at Citibank in 1976 before working for Goldman Sachs & Co from 1986 to 1999 as Partner and Managing Director. From 2001 to 2008 he was Chairman of the Ulster Bank Group and in 2008 he was appointed Chairman of Alliance & Leicester plc, until the takeover by Banco Santander. Dr Gillespie was also a Non-Executive Director of Elan Corporation plc, 1996-2006 and is currently Senior Independent Director of United Business Media plc, and Senior Independent Director of Old Mutual plc. In the public sector, he has been Chairman of the Northern Ireland Industrial Development Board (1996-2001), Chief Executive of the Commonwealth Development Corporation (1999-2002) and Chairman of the International Finance Facility for Immunisation (2005 to 2012).
4.Dr Gillespie was a member of the Advisory Board of the Judge Institute of Management Studies at the University of Cambridge and is currently Patron of the Queen's University of Belfast Foundation. He has received Honorary Degrees from the Queen's University of Belfast and the University of Ulster for services to the Northern Ireland economy. In 2008, he was elected an Honorary Fellow of Clare College, Cambridge.
5.All appointments are made on merit and political activity plays no part in the selection process. However, in accordance with the Nolan recommendations there is a requirement for appointees' political activity to be made public. Dr Gillespie has not been involved in any relevant political activities in the last five years.
6.The Economic and Social Research Council (ESRC) is the UK's largest organisation for funding research on economic and social issues. It supports independent high quality research which has an impact on business, the public sector and the third sector. The ESRC's total budget for 2012/13 is £205 million. At any one time the ESRC supports over 4,000 researchers and postgraduate students in academic institutions and independent research institutes.
7.The government's economic policy objective is to achieve 'strong, sustainable and balanced growth that is more evenly shared across the country and between industries'. It set four ambitions in the 'Plan for Growth' (PDF 1.7MB), published at Budget 2011:
To create the most competitive tax system in the G20
To make the UK the best place in Europe to start, finance and grow a business
To encourage investment and exports as a route to a more balanced economy
To create a more educated workforce that is the most flexible in Europe.
Work is underway across government to achieve these ambitions, including progress on more than 250 measures as part of the Growth Review. Developing an Industrial Strategy gives new impetus to this work by providing businesses, investors and the public with more clarity about the long-term direction in which the government wants the economy to travel.
Published 25 February 2013