News story
Reappointment of Capital for Enterprise Non-Executive Directors
Capital for Enterprise Limited advises the Government on the design, implementation and management of finance measures to support small and …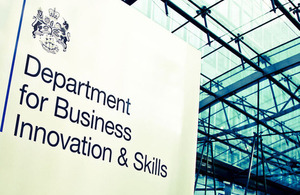 Capital for Enterprise Limited advises the Government on the design, implementation and management of finance measures to support small and medium sized enterprises (SMEs) across the UK.
Mark Prisk said:
"Capital for Enterprise's work delivering debt and equity products for the Government, and as our centre of expertise, is critical to drive growth and economic recovery.
"I am extremely grateful for the work of the board in building Capital for Enterprise, and to Alison Loudon, John Spence and John McCrory for the expertise and experience they have brought to the organisation."
**
Notes to editors:**
Remuneration for Non-Executive Directors has been set at £17,500 per annum (a 30 per cent reduction from the present level) but with an additional payment of £1,000 per annum to the two of the members who sit on the Audit Committee.

Biographies:
**Alison Loudon: **After qualifying as a Chartered Accountant with Grant Thornton, Alison helped found Aldus Europe Limited and as Finance and Commercial Director helped grow the company from start-up to a Group employing 300 people with turnover of £67 million. She has since held more than a dozen board appointments in various market sectors. Alison is currently Chairman of Simul8 Limited (advanced analytics), Consolidated Carriers Ltd (logistics supermarket solutions), Microstencil Limited (manufacturers of ultra-fine pitch stencils) and Caledonia Contracts Ltd (retail fit-out provider). She is also a Governor of Merchiston Castle School and sits on the Advisory Board for the University of Edinburgh Business School and was previously on the Board of the National Trust of Scotland and Entrepreneurial Exchange.
John McCrory: John's early career was spent at West Midlands CC, as Principal Economist and subsequently as Joint Head of Investment at West Midlands CC Pension Fund, one of the UK's largest. He then founded and was Managing Director of Westport Private Equity, one of the first European Fund of Funds managers. John launched the first ever European Private Equity Fund of Funds in 1991 and was subsequently involved in some 17 other such funds, including the UK High Technology Fund, which was raised in association with the DTI in 2000. He has been a core/founder investor and member of advisory boards for several significant UK venture firms. As a member of the relevant BVCA Committee, he designed and implemented the annual BVCA Performance Measurement Study, which is now a cornerstone of the industry.
John Spence OBE: John has spent his career in retail banking. Senior appointments have included Head of Business Banking at Lloyds Bank, Managing Director of Business Banking at Lloyds TSB, Chief Executive of Lloyds TSB Scotland and most recently Director of Policy Co-ordination and Risk. He is currently Chair of the British Bankers Association Retail Committee and the only Financial services Representative on the OFT Consumer Education Strategy Panel. John is a non-executive Director of HM Revenue & Customs where he chairs the Audit Committee, Capital for Enterprise Ltd and Skipton Information Group. He chairs Harlow Renaissance Ltd. and is Deputy Chairman of Business in the Community.
Alison Loudon's reappointment is for a further fifteen months, to 30 June 2012.
John Spence's reappointment is for a further two years, to 31 March 2013.
John McCrory's reappointment is for a further three years, to 31 March 2014.
BIS's online newsroom contains the latest press notices, speeches, as well as video and images for download. It also features an up to date list of BIS press office contacts. See http://www.bis.gov.uk/newsroom for more information
Notes to Editors
Contact Information
Name BIS Press Office Job Title
Division COI Phone
Fax
Mobile
Email NDS.BIS@coi.gsi.gov.uk
Name James Platt Job Title
Division Department for Business, Innovation and Skills Phone 020 7215 5978 Fax
Mobile
Email james.platt@bis.gov.uk
Published 1 April 2011