News story
Real progress cutting red tape
Today's Statement of New Regulation highlights in particular: *The reduction in regulatory costs to business from deregulatory measures exceeds…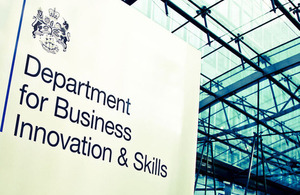 Today's Statement of New Regulation highlights in particular:
*The reduction in regulatory costs to business from deregulatory measures exceeds the costs from new regulations;
the number of deregulatory measures being brought in during the last six months has tripled when compared to the first half of the year, up from eight to 25; and
*Nine Government departments have reported a reduction in regulatory costs to business during 2011- 60 per cent of central Government departments.
Today, every Government Department is publishing a summary of the regulatory changes they intend to introduce before December 2011.
Examples of simplifications include:
making it easier to inspect patents, through free access to online files;

reducing the burden on companies when they update information on public record;

simplification of the regulations and guidance governing contaminated land, reducing excessive remediation;

extending the scope of self-certification of building work, reducing the need for Local Authority inspection;

reducing the likelihood of some commercial disputes in the construction sector, lowering adjudication costs to main contractors and sub-contractors; and

reforming and modernising the regulations applicable to credit unions, improving competition in the financial services market.
The publication is just part of the action this Government is taking in its bid to become the first Government to reduce the overall burden of regulation on business while in office.
Business and Enterprise Minister Mark Prisk said:
"During 2011 we have made real progress in cutting the costs of red tape for businesses. As well as the £3 billion saving for employers from the new indexation of pensions, we have seen a capping of other regulatory costs, and a substantial rise in the numbers of deregulatory measures. This is an encouraging sign that the culture in Whitehall is beginning to change. People are beginning to realise that regulation must be the last resort, not the first option. There is much more to do - especially so that businesses really notice the difference - but this first year is very promising."
Sir Don Curry, Non Executive Chair of the Better Regulation Executive, said:
"This statement shows that the cost for business of new regulation introduced in the past year remains negative - vitally important to promoting growth and investment at a time of continuing economic uncertainty. Furthermore, it shows that Whitehall is bringing in increasing numbers of deregulatory measures: proof that the One in, One out rule is biting. We need to keep up the momentum to create the best conditions for business growth."
The first Statement of New Regulation was published in April and set out the Government's plans to reduce the cost to business from domestic regulation. The One-in, One-out programme covers UK based regulation. Government continues to work hard to reduce the flow of regulation from Europe. The extended timescale for agreeing and implementing EU legislation means the results of this work will take time to have an impact on costs to business.
Next month Mr Prisk will also co-host a seminar with his opposite number in the German Government and key members of the European Parliament as part of the work to tackle the burden of regulation stemming from Europe. The European Parliament recently announced it would create a new unit to assess the burden of proposals from MEPs. The seminar will encourage evidence-based policy making in the European Parliament.
As well as the Statement of New Regulation and the Red Tape Challenge, which is a drive to encourage businesses and the public to tell the Government what they think of the regulations on the statute book, further work continues to take place to help the Government's proactive approach to reducing red tape.
In addition to stemming the flow of regulation Government will hand back choice to small businesses. Next month Government will propose new rules to reduce financial reporting requirements for small businesses. This will allow more small companies and subsidiaries to decide whether or not to have an audit. The Government is also proposing to introduce legislation next year to exempt from mandatory audit most subsidiary companies whose parent is prepared to guarantee their debts.
Notes to Editors
The Second Statement of New Regulation can be found here: http://www.bis.gov.uk/policies/bre/better-regulation-framework/one-in-one-out/statement
One-in, One-Out means that any new Whitehall regulation that imposes a net cost to business must be offset by a reduction in regulatory costs elsewhere. It is about making government departments 'hesitate to regulate' - thinking twice about bringing in red tape that could hold business back from creating jobs and growth.
Read more about how One-in, One-out works here: http://www.bis.gov.uk/policies/bre/better-regulation-framework/one-in-one-out
The cumulative balance for 2011 reported in the statement is expected to be a reduction in net regulatory costs to business of £3.27 billion. This is expected to be largely offset by the introduction of pension's auto-enrolment in due course.
Because it is an EU measure, the Agency Workers Directive is out of scope for One-in, One-out, and therefore does not appear in the statement. The Directive as originally drafted meant that any agency worker from their first day on an assignment would have the same pay and employment conditions as an equivalent full time staff member. However as a result of the social partner agreement between the CBI and TUC, the regulations coming in on 1 October 2011 mean that an agency worker is only entitled to equal pay once they have been on the same assignment for 12 weeks.
The Better Regulation Executive, in the Department for Business Innovation and Skills, is responsible for implementing the better regulation agenda; working across government to improve the way new laws and regulations are created; reduce unnecessary red tape; and provide the best environment for business to start up, flourish and grow.
BIS's online newsroom contains the latest press notices, speeches, as well as video and images for download. It also features an up to date list of BIS press office contacts. See http://www.bis.gov.uk/newsroom for more information.
Notes to Editors
Contact Information
Name BIS Press Office Job Title
Division COI Phone
Fax
Mobile
Email NDS.BIS@coi.gsi.gov.uk
Name Joanna Fletcher Job Title
Division Department for Business, Innovation and Skills Phone 020 7215 5951 Fax
Mobile
Published 26 September 2011