News story
Reactor shield rod first to be disposed of
Disposal of the first component removed from the Dounreay Prototype Fast Reactor (PFR) is now complete.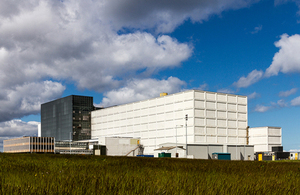 The PFR team is celebrating a milestone in the decommissioning process, by disposing of the first component to be lifted from the reactor when it shut down.
The 11 metre long neutron shield rod, which formed part of the shielding round the outer edge of the reactor, absorbed neutrons from the reactor core during operations. It had been in storage since it was removed from the reactor a number of years ago.
The giant 5-tonne rod was lifted and size-reduced in the PFR reactor hall and has now been transferred to a container ready for eventual disposal.
Graeme Dunnett, Senior Project Manager, said:
"I am proud of the team for achieving this milestone of processing our first component and look forward to seeing many more pass through the facility in line with our target to decommission PFR".
PFR went critical in 1974 and operated for 20 years.
Published 24 October 2016