Re-opening of British Embassy in Cote d'Ivoire
Foreign Secretary William Hague has announced that the British Embassy in Cote d'Ivoire will be re-opened, hailing it as a clear signal that the UK is committed to helping peace, stability and prosperity return to the country.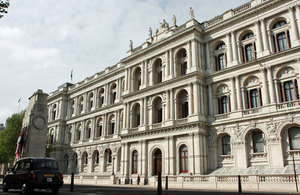 In a written statement to Parliament the Foreign Secretary said:
"With the onset of civil war, the British Embassy in Co?te d'Ivoire formally closed on 1 April 2005. As stability returned to the country, the UK opened a Political Office in 2006, reporting to and supervised by our High Commission in Ghana. Following the United Nations-certified presidential elections earlier this year and the inauguration of President Ouattara, I am pleased to announce the re-opening of the Embassy in Cote d'Ivoire.
As I said in Parliament on 11 May 2011, there will be no strategic shrinkage of Britain's diplomatic influence overseas. I am committed to extending the Foreign and Commonwealth Office's global reach and strengthening its influence. Re-opening the Embassy in Cote d'Ivoire, with a fully accredited, resident Ambassador taking up residence in spring 2012 is part of that commitment.
Under President Ouattara's government, peace and stability are slowly returning to Cote d'Ivoire. However, President Ouattara and his government face huge challenges if the country is to recover from the deep divisions created by the disputed elections and the subsequent civil war. Through the Government's new Building Stability Overseas Strategy, the UK will continue to support security sector reform, national reconciliation, reconstruction and human rights in Co?te d'Ivoire. It is important that justice is seen to be served on all those on both sides of the political divide who have been found responsible for crimes and human rights abuses in the recent conflict.
Since the closure of the Embassy in 2005, our influence in Cote d'Ivoire has been limited. Re-opening sends a clear signal that we are committed to helping peace, stability and prosperity return to Cote d'Ivoire. A fully accredited Ambassador will be able to work more closely, and more credibly, with President Ouattara and his Government to help Cote d'Ivoire demonstrate its commitment to justice, reconciliation and human rights and to become a beacon of democracy in West Africa.
Re-opening the embassy will also support our commercial ties. Cote d'Ivoire is the largest producer of cocoa in the world, the fourth largest exporter in sub-Saharan Africa, and has one of the best infrastructures for business in the region, there will be real opportunities for UK companies particularly in the agricultural, energy and financial sectors. Increased prosperity and growth in Cote d'Ivoire is in all our interests.
The re-opening of the Embassy will incur a marginal cost of £16,000. A limited consular service will be offered in Co?te d'Ivoire. Our High Commission in Ghana will continue to provide a visa service as well as full consular assistance."
Published 7 September 2011