News story
RBS bad bank review published
Government publishes review into case for RBS bad bank, as RBS publishes latest set of results.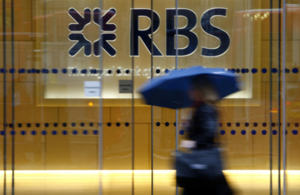 The government is today publishing its review entitled, "RBS and the case for a bad bank: the Government's Review", which the Chancellor announced in June 2013. RBS has also published its latest set of results today, in which the bank sets out a new direction that will lead it to being a boost to the British economy instead of a burden.
RBS has announced that a bad bank will be created to separate and wind down RBS's poorly-performing and high-risk assets that are a legacy of what went wrong in its past, enabling RBS to look to the future. But instead of an 'external' bad bank that would require more taxpayers' support, this will be an 'internal' bad bank funded by RBS itself.
RBS has announced a renewed focus on its core British business, supporting British families and companies, with an ambitious goal to become the best small business bank in Britain from which, in time, the British taxpayer can start getting its money back.
Watch the Chancellor's video explaining what the government is doing to get taxpayers' money back and create a banking system that works for Britain
As a result of the measures announced today, the Bank of England has confirmed that the taxpayers' contingent exposure to the banking system has been reduced by a further £8 billion with the removal of the Contingent Capital Facility one year early.
When the Dividend Access Share (DAS) is retired – on which the Treasury and RBS are now in advanced negotiations with the European Commission – this should also make RBS shares more attractive to external investors and bring forward the day when taxpayers can get their money back.
The Chancellor of the Exchequer, George Osborne, said:
Today RBS sets out a new direction – a new direction that will lead it to being a boost to the British economy instead of a burden. This is part of our economic plan for sustaining the economic recovery and creating a banking system that works for Britain.
Under this new direction RBS will deal decisively with the problems of the past by separating out the good from the bad, and putting the bad loans in a bad bank. Our independent analysis shows that the bad bank should be an internal one, funded by RBS, rather than an external one funded by the taxpayer.
RBS will focus on its core British business, supporting British families and companies. It will sell off more of its overseas operations and go on shrinking its investment bank, so it has more capital to support lending to the British economy. RBS is also committing today to the ambitious goal of becoming the best small business bank in Britain.
The new direction for RBS is supported wholeheartedly by the management and Board of RBS, the Bank of England, the Government and UK Financial Investments (UKFI). The authorities look forward to supporting Ross McEwan and his team in implementing this plan.
It means less exposure for the British taxpayer and more help for the British economy. That is why it's good for Britain.
Secretary of State for Business, Vince Cable, said:
I welcome the announcement today that RBS will be creating a new internal bad bank & selling its US bank. This will enable it to focus on business lending in the UK. It is clear that for many years RBS has handicapped our recovery by failing to provide the credit that businesses need. As Sir Andrew Large demonstrates, its SME lending practices are badly designed for supporting small businesses. After these changes good British companies, especially SMEs, should expect a more positive approach.
The publication of RBS's plan and announcement of an internal bad bank today follows the conclusion of the government's review, announced by the Chancellor in June, into the case for a so-called bad bank to hold and manage RBS's legacy assets.
This review was conducted by the Treasury with expert help from Blackrock Solutions and Rothschild, whose key advice includes:
[BlackRock Solutions] RBS has demonstrated a strong track record for effectively managing down its non-core assets. We believe that that these skills combined with RBS plan for setting up an internal bad bank offers the most efficient route to resolve the identified assets.
[Rothschild] the new strategy announced by RBS should over time address many of the bank's challenges and areas of investor concern, which in the longer term should be reflected in an improved valuation and improve the prospects for an earlier return of RBS ownership to the private sector.
Published 1 November 2013
Last updated 1 November 2013
+ show all updates
added video link
First published.