RBL launches 2011 Poppy Appeal
Members of HM Armed Forces today attended the launch of the Royal British Legion's 2011 Poppy Appeal, which aims to break previous years' fundraising totals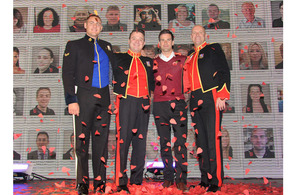 The Poppy Appeal raises funds needed to support those currently serving in Afghanistan, veterans of past conflicts, and their families.
As the UK's leading armed forces charity, the RBL revealed today that it hopes to raise £40m as it celebrates its 90th anniversary this year.
The 2011 campaign has been launched under the slogan 'shoulder to shoulder with all who serve' and is backed by an online campaign and a chart-destined official single recorded by the Bee Gee's Robin Gibb and forces pop sensations The Soldiers.
Attending the launch was Lance Corporal Tyler Christopher, of 4th Battalion The Rifles, who was injured by an improvised explosive device in Afghanistan in 2009.
As a result of the blast he had to have both legs amputated above the knee. The RBL was there to provide immediate and essential adaptations to his home:
Changes to my mum's home were essential when I came home from Headley Court, and I'll never forget that the [Royal British] Legion got the job done as quickly as possible to make life at that time easier for me," he said.
Both myself and my girlfriend are grateful for the support of the Legion and hope to some day set up our own business - something we know the Legion is also able to help with.
TV presenter Gethin Jones also attended the launch. He said:
I'm honoured to be launching the Poppy Appeal. I've experienced first-hand what life is like for our brave servicemen and women on operations and how much the British public's support means to them.
They risk so much for us every single day. I ask everyone to throw their support behind the appeal and to wear their poppy with pride.
This year's Poppy Appeal involves a new social media campaign which encourages members of the public to log on to shouldertoshoulder.org.uk and pin a poppy to an online photograph, add a message of support, and place it alongside thousands of others on an interactive wall.
The RBL Director of Fundraising, Russell Thompson OBE, said:
Of course, everyone who wears the paper poppy is also standing shoulder-to-shoulder. It doesn't really matter whether you wear your poppy on the street or online - just so long as you wear your poppy with pride.
At the launch, which took place earlier today, Thursday 27 October 2011, The Soldiers performed the official Poppy Appeal song for 2011, I've Gotta Get a Message to You. Speaking before the launch, Robin Gibb, who wrote the chart-topping single with his brothers Barry and Maurice of the Bee Gees in 1968, said the single is a:
…moving tribute to our serving personnel who lay their lives on the line for our country every day.
Although the song was not written all those years back about soldiers, it can represent the human emotions of servicemen - or in this case, a single soldier," he added.
It's about being trapped in a corner, far from home, brave but scared and thinking of loved ones. These men and women deserve our respect and support.
The Poppy Appeal distributes around 45 million poppies, 100,000 wreaths and sprays and 750,000 Little Remembrance Crosses which are all made at the RBL's Poppy Factory in Richmond, Surrey.
Published 27 October 2011