World news story
Rampling in Tyre: support to mine clearance continues
During his visit Ambassador Rampling heard from Mine Advisory Group how new UK funding is supporting their efforts to clear kilometres of unexploded ordinance.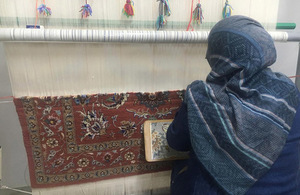 As part of his regional visits across Lebanon, British Ambassador to Lebanon Chris Rampling was down south on his first visit to the city of Tyre and town of Nabatieh. The visit was an opportunity to meet, among others, with Mine Advisory Group (MAG), Imam Sadr Foundation, and tour the region's archaeological sites.
With Mine Advisory Group, Ambassador Rampling received a briefing about their demining efforts in south Lebanon and how new DFID funding is helping to save more lives - Lebanese and refugees alike. The UK recently contributed over £2 million to support clearance of many kilometres of Cluster Munitions across Lebanon.
Ambassador Rampling also visited the Imam Sadr Foundation and heard from Mrs. Rabab Sadr on the NGO's current and future projects with a focus on women and refugees. Rampling took some time out to visit the historical archaeological sites at Tyre and Beaufort. While in Nabatiyeh, Ambassador Rampling was hosted by MP Yassin Jaber in the presence of officials and dignitaries from the region.
After the visit, Ambassador Rampling said:
I am delighted to be returning to the South, and to Tyre. A city steeped in archaeological history dating back to Phoenician times. Like many towns in Lebanon, Tyre represents a symbol of coexistence and harmony among its residents. I also visited the beautiful and historic fort: Beaufort Castle, and many interesting people, discussing both our current and possible future support.

As part of my visit, I came to hear from Mine Advisory Group (MAG) how the new UK funding is supporting their efforts to clear kilometres of unexploded ordinance. Landmines have left a legacy of suffering across the world, and we are pleased to be working here and across Lebanon to help ordinary people get on with their lives: this was part of the UK commitment in December 2017, and which was the most successful Christmas landmine-clearing appeal ever.

We are pleased to be working closely with the Lebanese army, UNIFIL, UNDP, the Mine Advisory Group (MAG) and local NGOs, politicians and dignitaries all over Lebanon, and including in the south. And I am delighted to have got to understand the region a little better today.
Published 25 January 2019