News story
Ramadan 2014: message from Nick Clegg
The Deputy Prime Minister has recorded a video message to wish everyone celebrating the festival "Ramadan Mubarak".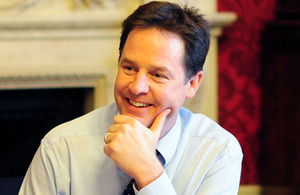 Nick Clegg message for Ramadan
Video transcript
Message from Deputy Prime Minister Nick Clegg to mark Ramadan.
We're now in the holiest month of the Islamic calendar, as people here in Britain and around the world celebrate Ramadan. If you're one of the many families fasting from sunrise until sunset, I certainly don't need to tell you how challenging it is this year with Ramadan falling during our longest days.

I know that for many of you, fasting – as one of the essential pillars of Islam – is a chance to remember the daily struggles of the world's poorest and most vulnerable people. For me, it's that spirit that goes to the heart of what Islam is all about. It's that profound desire to look after other people. And it's that sense of doing all you can, collectively and individually, to make the world around you a more prosperous and peaceful place.

So I want to thank you all for the valuable contribution you make, across British society and beyond, both at Ramadan and throughout the whole year.

And to everyone celebrating the festival this month, Ramadan Mubarak.
Published 27 June 2014