World news story
Raising awareness in the fight against the trafficking of human beings in Albania
The British Ambassador addressed an open forum organised at the University of Durres.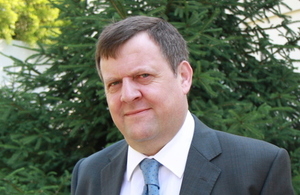 The British Ambassador in Albania, Mr. Nicholas Cannon addressed an open forum aiming to raise awareness in the fight against the trafficking of human beings, organised at the University of Durres. Talking to the students, Ambassador Cannon said that trafficking is a sensitive phenomenon that impacts not only the affected individuals and their families but the society as a whole.
Trafficking of human beings involves a series of institutions and countries and this is why coordination between institutions and international cooperation are the main ways to tackle it, alongside information and awareness raising, which is why we are gathered here. Both our governments collaborate very closely to fight this phenomenon. On a more formal level, last year Minister Tahiri and Home Secretary Theresa May signed a cooperation memorandum on the fight against the trafficking of human beings", said ambassador Cannon.
Commenting an article appearing on "The Guardian" suggesting that Albanian children are the second largest group of trafficked children to Britain, Mr. Cannon said that the figures are currently being investigated by the British authorities. "The article quoted figures by an NGO and authorities in Britain are currently investigating whether these numbers are true or not. There is a raise in the number of unaccompanied minors coming to Britain, but they are mostly boys aged between 15-18 years old and not 3 as the article suggests. However, as the Deputy Minister of Interior can confirm, abandoning children constitutes a criminal offense under Albanian legislation".
The Ministry of Interior Affairs announced October as the anti-trafficking month, during which a series of events to raise awareness to the phenomenon are organised
Published 29 October 2015