World news story
Rainbow Cake at the British Residence in Macedonia
LGBT community in Macedonia came together at our Residence recently to support diversity, equality, and enjoy a slice of rainbow cake.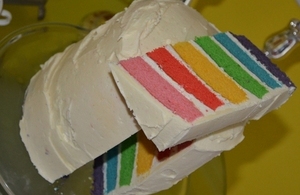 The event, hosted by Ambassador Charles Garrett, was an opportunity to highlight the evolution of LGBT rights in the UK and how British society's views on diversity and equality had changed so much in a relatively short number of years.
Speaking at the event Ambassador Garrett said:
The UK is committed to promoting and protecting the rights of LGBT people and we will continue to show our solidarity with their calls for equality and non-discrimination.
Representatives of the LGBTI support centre from Macedonia gave a presentation on the legal changes seen past century on this important issue – and how society's views have shifted.
Michael Kane from the Home Office Spectrum Network joined us from Tirana to share his experience of being one half of the first gay marriage in Albania. His wedding took place at the British Embassy in Tirana in accordance with UK legislation and the wedding photos made quite an impact.
The UK is now one of the leading supporters of LGBT rights. The Marriage (Same Sex Couples) Act was passed in July 2013 and the first same-sex weddings in England and Wales were held on March 29, 2014.
This acceptance of diversity is just one of the reasons why the UK is a Great destination – as this short video shows.
To find out more about the work of the Foreign and Commonwealth Office in the area of human rights you can check the annual Human Rights and Democracy Report 2014-2015.
Connect with us on Facebook or follow us @ukinmacedonia
Connect with the British Ambassador on Facebook or @BritAmbCGarrett
Read our blog UK in Macedonia
Published 17 August 2015