News story
Rail minister sees how new entrance to Leeds station will support growth
Theresa Villiers visited Leeds today to see how a second entrance to Leeds station will improve access and encourage further growth.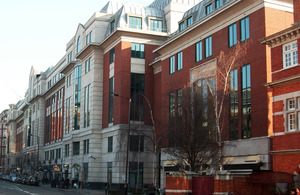 Rail Minister Theresa Villiers visited Leeds today(20 October 2011) to see how £14.4 million of public funding for a second entrance to Leeds station will improve access and encourage further growth and regeneration.
Leeds is the second busiest station outside London with around 36 million passengers a year and the area to the immediate south has seen major new office accommodation such as Bridgewater Place, as well as new residential and leisure facilities including the Mint Hotel. A new southern entrance will for the first time provide direct access to this area from the station, benefiting around 20 per cent of passengers and helping to facilitate future development.
The new entrance is being jointly funded by the Department for Transport, Metro and Leeds City Council. It will comprise a concourse deck over the River Aire within a visually iconic enclosed building. Subject to a successful Transport and Works Act Order, the new entrance is expected to open in summer 2014.
Visiting the site of the southern entrance with co-funders Metro, Theresa Villiers said:
Despite the urgent need to tackle the deficit, targeted investment to support growth remains a government priority. A southern entrance at Leeds Station will greatly improve access to an existing area of regeneration that has already transformed the immediate station surroundings, and promises to add an iconic new structure to this key gateway to the city. I look forward to seeing this project develop.
Councillor James Lewis, Metro's Chairman said:
Leeds Station is at the heart of the city and the city region. Passenger numbers using this busy station are growing and set to rise even further, and providing a second access at the southern side of the station will ease congestion for people using the existing entrances.

This new entrance, whose striking design was well-received design by people during consultation, will encourage business, residential and leisure growth south of the river.
Notes to editors
The estimated total cost of the scheme is £14.4m. In reapproving the scheme, DfT agreed to provide up to a maximum of £12.4m towards scheme construction costs, with a further £0.5m coming from Leeds City Council. Metro are providing £1.5m for the development costs.
A public consultation during summer 2009 showed a very high level of support for the scheme, with 96% of respondents supporting the idea for a new southern entrance for the station.
Construction of the new entrance is expected to begin in summer 2013 and the entrance is expected to be open in 2014, subject to the planning process.
Rail media enquiries
Media enquiries 020 7944 3021
Out of hours media enquiries 020 7944 4292
Switchboard 0300 330 3000
Published 20 October 2011