News story
Rail minister launches new services to Stansted Airport
Rail minister Claire Perry unveils improved rail connections between Cambridge and Stansted.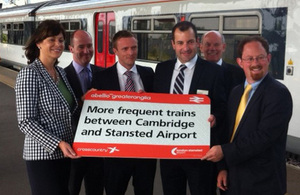 Passengers using Stansted Airport will enjoy more trains and more seats from today (21 July 2014) after train operator Abellio Greater Anglia (AGA) unveiled a raft of new weekday services.
Rail minister Claire Perry officially launched the new services, which will double the number of off-peak trains running between Cambridge and the airport, and provide 1700 seats a day.
Eight extra trains will run in each direction between 9.30am and 10pm, in addition to the existing services operated by CrossCountry. By providing a half-hourly service to and from the airport, passengers along the route will enjoy greater choice and convenience.
Claire Perry said:
This deal is great news for passengers along this important route as it will deliver more services and more seats which will make travelling to the airport more comfortable. It will improve the region's international connections, via Stansted Airport, to the rest of Europe.

Strong transport links are the key to our long-term economic plan, which is why we are investing £38 billion over the next 5 years on maintaining and improving our railways. I am pleased to see companies like Abellio, CrossCountry and Stansted Airport working together to give passengers better services.
The deal was made possible after the government signed a new direct award franchise agreement with AGA that will also provide refreshed rolling stock on the Great Eastern Main Line between Norwich, Ipswich, Colchester and London. Passengers will benefit from new seat covers, new carpets, better lighting and at seat power sockets, improving the travelling experience and helping passengers work and stay in touch. Additional rail services will also be provided on local lines.
The government is currently investing in the biggest programme of rail modernisation since the Victorian era, with £38 billion being spent over the next 5 years on transforming the network, with more trains, increased capacity, and faster and more reliable journeys across the UK.
The increase in services between Cambridge and Stansted Airport is in line with the recommendations of the Airport Commission's study into airport capacity in the UK, which recently highlighted the importance of surface access to the UK's airports. It will also increase services for passengers at the intermediate stations on the route, providing connections that can stimulate the local economy.
Rail media enquiries
Press enquiries 020 7944 3021
Out of hours 020 7944 4292
Switchboard 0300 330 3000
Published 21 July 2014