Press release
Raid at Forest of Dean waste site
On Tuesday 23 February, the Environment Agency and Gloucestershire Constabulary made an unannounced site visit at an unpermitted waste site.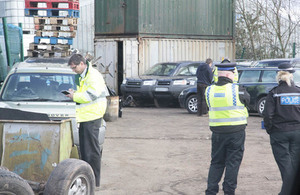 The visit to the site in Coleford, Forest of Dean was part of an operation to tackle illegal waste activities.
During the site visit, investigating Environment Agency officers looked at the potential for end-of-life vehicle dismantling activities. Evidence collected and seized included photographs and paperwork. This will be examined further by officers.
The Environment Agency is the government body responsible for the permitting and regulation of sites that handle and treat waste such as landfills, waste transfer stations and end-of-life vehicle facilities. Permits are necessary to ensure that activities at such sites do not pose a risk to the environment or harm to people, and that there is a level playing field for all operators.
Illegal sites generally do not benefit from the infrastructure required to prevent harmful materials entering rivers or ground waters, and consequently can have a significant adverse impact on the local area.
The Environment Agency lead investigating officer in the case said:
We seek to gather information from partner enforcement agencies and use this and other intelligence to actively target the operators of illegal waste sites. We can then use this information to close sites and prosecute criminals who flout the law, disregarding our environment and blight communities.

Illegal activities impact on the local community and deprive local businesses of the opportunity to dispose of this waste lawfully. Homeowners and businesses have a duty of care to ensure their waste is being disposed of by a legitimate company and being taken to a site that is authorised to take such waste.
Acting Inspector Paul Simmons of Gloucestershire Constabulary said:
Police are assisting with enquiries into any suspected stolen vehicles and also any theft and fraud offences. Local officers from Coleford Police Station were on standby to allow the Environment Agency to undertake their enquiries and to prevent any breach of the peace.
People can check if a person or company is authorised to take waste by checking the Environment Agency public register.
If anyone is unsure if a site needs to be permitted, or how to go about getting a permit, please contact the Environment Agency for help and advice on 03708 506 506.
Alternatively if people have information about illegal waste activity they can contact the Environment Agency's 24 hour incident hotline on 0800 80 70 60 or Crimestoppers on 0800 555 111.
Published 23 February 2016