RAF team saves teenagers from cliff
An RAF Search and Rescue team helped pluck to safety four teenagers trapped on a 200-foot (60m) cliff face in South Wales earlier this week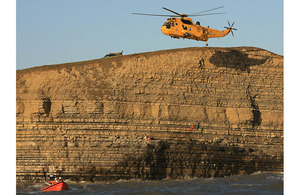 The two boys and two girls, all aged 17, had decided to climb the rock face at Dunraven Bay, near Southerndown, South Wales, during a day trip. But, stuck on a tiny ledge as the tide came in, they suddenly found they were cut off up the cliff as waves crashed around their feet.
People in the immediate vicinity, who witnessed the unfolding drama from the shore, raised the alarm, and, with lifeboats unable to reach them, a rescue helicopter was called in from Chivenor in Devon.
Co-pilot of the RAF Sea King Mk3A helicopter, Flight Lieutenant John Rowe, said:
The teenagers were trapped at the bottom of the cliff and the incoming tide had cut them off. When we arrived, Llantwit Major cliff rescue teams and Porthcawl lifeboats were already at the scene. But we were the quickest way of getting them out.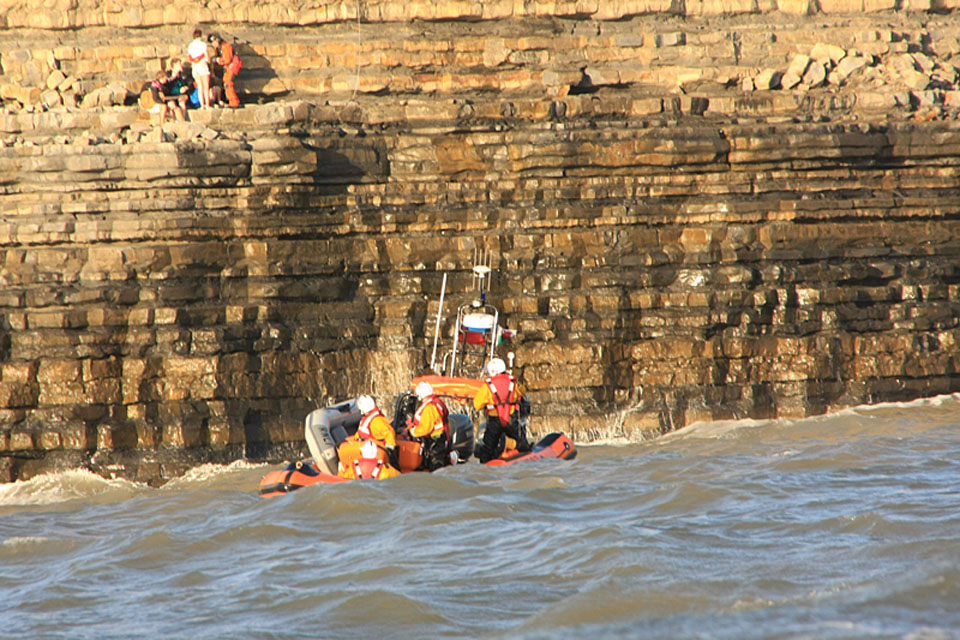 "The group had climbed up to a cliff ledge, which was the highest point they could get to - around 20 feet [6m] above seawater, which was where we found them."
Winchman Sergeant Rachel Robinson, fresh out of training with the Operational Conversion Unit at RAF Valley, was sent down to rescue the teenagers (including a guitar that belonged to one of them) in only her second operation.
Describing the difficulty of the mission Flight Lieutenant Rowe said:
It wasn't too difficult, a relatively simple job of about three out of 10. It was a nice day with no bad weather conditions, just a bit of a crosswind. Rachel was the winchwoman so we got them up two at a time in the aircraft to safety. She coped absolutely admirably.
The teenagers, who all came from Cardiff, said they were 'cold but scared'. The RAF team dropped them off unharmed at the top of the cliff, leaving them with the Swansea Coastguard:
Fortunately, it was quite a benign rescue," said Flight Lieutenant Rowe, adding, "cliff-top call-outs are not unusual. We go to quite a few. Getting cut off by the tide is surprisingly common and Search and Rescue probably get called out once a week.
The Royal Air Force maintains a 24-hour Search and Rescue (SAR) service covering the whole of the United Kingdom and a large surrounding area. Whilst the service exists primarily to assist military aircrew and other personnel in distress, the vast majority of 'scrambles' are to assist civilians who find themselves in difficulties, either on land or at sea.
RAF Sea King helicopters of 22 and 202 Squadrons operate from six UK locations. Further helicopters provide SAR cover from two Royal Navy and four Maritime and Coastguard Agency contract-operated bases, giving a total of 12 helicopter units around the UK. RAF Mountain Rescue Teams are based at four locations in mainland Britain, each staffed by a core of eight permanent staff members and supported by 28 part-time volunteers.
Published 18 August 2011