RAF pilot honoured for courage in Afghanistan
A Chinook pilot from RAF Odiham was presented with a Distinguished Flying Cross for his 'superior flying skills' in Afghanistan at a prestigious ceremony at Buckingham Palace on Friday 4 June 2010.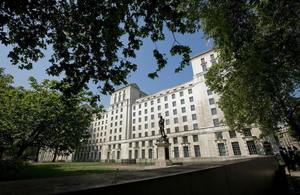 Flight Lieutenant Marc Heal, aged 29, was amongst personnel from various stations across the UK to be honoured in the Armed Forces Operational Awards, announced earlier this year, for their bravery and service in Afghanistan, Iraq, and in Search and Rescue missions around the UK.
Flight Lieutenant Heal was awarded the prestigious Distinguished Flying Cross for his actions whilst on operations in Afghanistan in July 2009.
As the Captain of the Chinook helicopter Immediate Response Team (IRT) during Operation PANCHAI PALANG (PANTHER'S CLAW), based at Camp Bastion, he commanded eight IRT missions and was regularly tasked into areas with a very significant enemy threat.
He consistently demonstrated exceptional levels of professional ability combined with unflinching courage throughout, successfully extracting 29 casualties from the battlefield and delivering them into medical care.
Throughout this most intense operational period, his superior flying skills, inspirational command of his crew and calmness under fire set an outstanding example of gallantry, professionalism and courage that undoubtedly saved lives.
Following the presentation of his award at Buckingham Palace, Flight Lieutenant Heal said:
I was very proud and honoured to receive my award from the Queen yesterday on behalf of my crew. It was a very humbling experience to be in the presence of people who had achieved so much.
It was a day that myself and my family will never forget and I am glad I was able to share it with them.
Published 7 June 2010