RAF Northolt - the place to be
Fast approaching completion, the five years' construction work at RAF Northolt has delivered hundreds of brand new accommodation spaces, a new…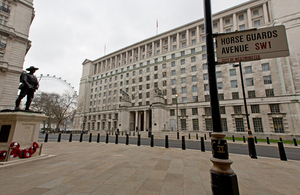 Fast approaching completion, the five years' construction work at RAF Northolt has delivered hundreds of brand new accommodation spaces, a new five-bay hangar, office buildings, recreational facilities and a new childcare centre.
Located on the fringes of North West London, the station is home to a variety of units and activities, with approximately 1,800 personnel now based there. Approximately 700 staff live on site too.
Perhaps most famously, RAF Northolt is home to 32 (The Royal) Squadron, who provide air transport for the Royal Family and British Government. It is also home to the Queen's Colour Squadron (63 Squadron RAF Regiment) who combine operational duties with a ceremonial role representing the Royal Air Force at significant state occasions.
RAF Headquarters Music Services, the Central Band of the RAF, the British Forces Post Office parcel sorting facility, and No 1 Aeronautical Information Documents Unit, at the heart of the air cartographic world, also operate out of Northolt as well as an RAF Police unit and Special Investigations Branch.
Construction work at the station has been delivered for the Defence Infrastructure Organisation (DIO) by their contractor VSM Estates Ltd under Project MoDEL (MOD Estates London).
The 600 new Single Living Accommodation spaces are a world away from the crumbling post-war 'H Blocks' which existed previously, where up to seven personnel shared dormitories with just one washbasin between them. Now, en-suite bedrooms are hotel standard, with fitted furniture, double bed, desk and a comfy armchair.
The living blocks, completed in 2008-09, are also allocated carefully to the various trades on the base so all those working on similar shifts are placed together to minimise disturbances to others.
Pilot Officer James Betts is one of the beneficiaries of the new Single Living Accommodation and he now lives just a stone's throw from his office on base. He pays £120 per month for his room which includes gas, heating, lighting and even a daily cleaning service:
For this area of London, it is pretty good," he said.
RAF Northolt is just yards from Ruislip Gardens tube station, which is just a short ride away from the centre of London.
Pilot Officer Betts explains that there are six officers sharing his floor with a shared sitting room and well laid out kitchen facility fitted with a washing machine, fridge, microwave and hob, although he still prefers to dine in the Officers' Mess, where he enjoys Pay As You Dine meals where troops pay only for meals they consume:
It's a no-brainer," Pilot Officer Betts said. "I can have a starter, main course and dessert, all for about £1.75.
The purpose-built accommodation beats anything he has previously experienced:
I'm 25 metres away from my meals, 50 metres from work and 400 metres from the gym. I can't really go wrong, can I?
Care has been taken by the MoDEL integrated project team and their contractor VSM Estates Ltd to introduce eco-friendly features, where possible, to the new buildings. For example, beneath a number of the new car parks, rainwater is harvested and then carefully drained off, which helps prevent flooding during heavy rain.
And in 2009, the then Station Commander, Group Captain Guy van den Berg, keen to encourage fewer car journeys on site, authorised the purchase of 35 bicycles as part of the station green travel plan, enabling personnel to scoot around the 476-acre (1.9 square kilometres) site with ease.
Among other improvements to Northolt delivered under the project are new facilities for the various units at the base.
Sporting facilities now include new football and rugby pitches and a floodlit all-weather sports pitch next to the new gym which is packed with a contemporary fitness suite for exercise classes. The new childcare centre has won praise from the local authority.
The final construction feature, a new dog section, was delivered by Project MoDEL at RAF Northolt at the end of February 2012.
The new dog section includes 22 kennels and a quarantine building for the police dogs on site. The old kennels, which were decrepit and draughty, have made way for this new bespoke facility, which includes solar roof panels to generate heat and power.
The price tag of around £200m for all this work was covered by the sale of surplus MOD sites at Woolwich, Mill Hill, Eastcote, West Ruislip, Uxbridge and Bentley Priory.
DIO Team Leader for Project MoDEL, David Salmond, said:
The delivery of the dog section has marked the end of more than five years of construction at RAF Northolt and the realisation of the vision to deliver a fit-for-purpose anchor site for Defence.
He added that station personnel have provided very positive feedback about their new accommodation and other improvements to the site which he hopes will improve the quality of life for all those who live and work there.
Senior Aircraftman Chris Platts bears testament to this. He has been living at RAF Northolt for several months, following his posting from RAF Lossiemouth in Scotland, and said:
Northolt is definitely the best place to be.
This article is taken from the April 2012 edition of Defence Focus - the magazine for everyone in Defence.
Published 12 April 2012