RAF medics help keep planes flying over Libya
Helping to keep the UK's aircrew and support staff fit and healthy and flying aircraft over Libya in support of NATO's Operation UNIFIED PROTECTOR is a team of RAF medical staff.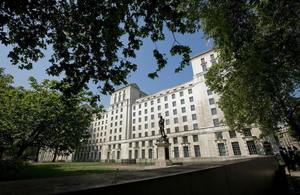 As the RAF continues its mission to protect Libyan civilians from attack, the pilots and personnel on the ground at Gioia del Colle air base in southern Italy are being looked after by a team of deployed medical personnel.
Intense heat, limited clean water supplies and indigenous insects that can bite - these are just some of the health hazards and issues that the RAF medics are tackling on a daily basis.
Squadron Leader Eric Okojie is the Senior Medical Officer (SMO) for Operation ELLAMY. He said:
My priority is quite simple: making sure all the aircrew are fit to fly and all the support staff are healthy so the aircraft can keep flying. That probably sounds too simple, but actually there's a lot of work involved in that!
One of Squadron Leader Okojie's staff is Corporal Emma Atkinson, the only RAF nurse supporting the detachment, who is on call 24-hours-a-day, seven-days-a-week. She explained the work of the deployed medical centre:
It's a walk-in clinic all day so people get seen pretty quickly. The thing is though, people think 'southern Italy, that's nice and easy', but we've had to bring in a huge amount of medical supplies, from antibiotics to ear syringes, particularly as it was a new operation. In the beginning we only had two very basic, small rooms, so we've had to make the most of them.
As RAF Tornados and Typhoons clock up thousands of flying hours in support of NATO's mandate, personnel are working around the clock, so time away from their main task is rare. But that isn't a problem for the RAF medical team; they go out to them, conducting 'outreach' clinics anywhere on the air base that people need them.
The RAF medics are equipped to deal with most minor illnesses and injuries on behalf of the SMO or nurse and there's not much they haven't seen before. RAF medic Senior Aircraftwoman Tanica Owens said:
I've seen some really nasty insect bites, they can get infected, and we often get cuts and bruises, scrapes and minor crush injuries; we have a good spectrum of things, but mostly common injuries. My biggest thing out here is hydration and heat-related illnesses.

We're working in a lot of heat and we don't have air-conditioning in the buildings, so it can be difficult for us to cool patients down. I think I'm helping, some people may think it's hindering, but I like to go around and just put bottles of water on people's desks, so there's no excuse!
Corporal Atkinson added:
People can't resist over breakfast or dinner to ask us about their sore finger, or say 'I've got this, I've got that, what's this, what's that', but that's OK, that's what we're here for.
Military personnel are renowned for their 'can-do' attitude and personnel based at Gioia del Colle are no different, but surely that makes for a difficult customer base? The SMO puts it more diplomatically:
Detachments are very special environments; if at home, say in the NHS, you tell someone 'don't do any fitness' they won't do any fitness. Diarrhoea and vomiting; if you say 'stay away from work', they'll be quite happy to stay away from work.
But personnel on ops are highly motivated and they are here for a purpose. For them to stay away from work or stop keeping fit is counter-intuitive to all they know. You just have to keep explaining to them that it's for the good of everybody.
And it's not just about running regular clinics; the RAF detachment needs a good relationship with the host nation (Italy) to allow its personnel to use their resources, such as their hospitals, medical centres and pharmacies. Squadron Leader Okojie works hard with UK medical suppliers and the Italians to ensure that anyone deployed on Operation ELLAMY is well cared for, whatever the issue. He said:
We need to be satisfied with the local hospital, we need a good relationship with their point of contact and we need to make them aware of the British servicemen and women that are coming through. We need to ensure they can treat our guys if we need them to, at any time, day or night.
Corporal Andy Chester is the environmental health technician on Operation ELLAMY. His job is to try and limit the number of personnel needing to go to the medical centre by identifying the health risks that exist within the environment and providing ways to mitigate the hazards. He said:
Imagine if 30 line technicians went down with D&V [diarrhoea and vomiting]; that would have a direct impact on the amount of sorties the aircraft could fly and could even stop flying altogether.

We do a lot of work; if the guys go down, not just with D&V, with anything, then they can't do their duties and that operating base simply can't operate.
Heat is the main threat to personnel. The detachment goes through thousands of litres of bottled water every day. To stave off dehydration they need to drink at least four litres of water daily, more for those working in particularly hot conditions, such as the chefs or aircraft technicians and engineers, who sometimes work in temperatures as high as 60 degrees Celsius.
Corporal Chester added:
As with Op HERRICK, heat is still a big issue, it's educating the guys to take notice of all the warnings and advice. We do a lot of education in the UK before the guys deploy, but when in theatre we have to continually go around all the sections, particularly as personnel are often changing around.
Corporal Chester says his biggest challenge is getting people to realise the importance of the basics:
It's getting the message across: yes, we need to get the aircraft, bombs and bullets in place, but any operating base will need toilets, hand-washing points, clean water supplies and a proper rubbish disposal system, otherwise everything else is meaningless; after all you can't exist without clean water, especially in this heat!
Since operations began over Libya in March, Tornado and Typhoon aircraft have been operating at a tempo not seen since the Second World War; none of this would have been possible without the vital work of RAF medics keeping the detachment 'fighting fit'.
Published 6 October 2011