RAF Leeming personnel show why they're the Pride of Britain
Personnel from RAF Leeming showed why they're the Pride of Britain when they helped the Daily Mirror launch its annual campaign to find unsung heroes.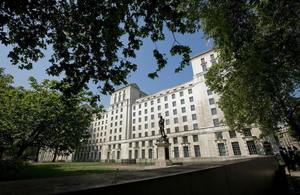 Now in its 14th year, the Pride of Britain Awards seek to honour the country's unsung heroes, including members of the Armed Forces. Last year two of the awards were given to Service personnel.
The awards' tour bus has officially launched this year's appeal for nominations, stopping off to meet personnel at RAF Leeming.
90 Signals Unit's Tactical Communications Wing is the longest-serving unit on the current Afghanistan operation. The unit's personnel provide all communications to support air operations - from IT to communications with jets.
Commanding Officer of 90 Signals Unit, Group Captain John Wariner, said:
It was a pleasure to host the Daily Mirror Pride of Britain promotional tour. The work of 90 Signals Unit and RAF Regiment personnel is not often in the public eye, yet is critical to supporting front line operations.

While none would want to be described as heroes, their regular deployments to theatre make their commanders and families exceptionally proud indeed.
Personnel from 34 Squadron RAF Regiment are currently preparing to deploy to Afghanistan in October. RAF Regiment squadrons are responsible for ensuring the protection of any deployed RAF assets from their ground position.
This could include anything from training other branches of the RAF to mounting aggressive patrols around an air base.
Sections from RAF Leeming also provided more than 150 personnel to the Olympics effort in a variety of roles covering everything from security and air traffic to catering and communications.
Wing Commander Jim Pruden, Acting Station Commander at RAF Leeming, said:
It was great that the Daily Mirror chose RAF Leeming as its military stop-off during its Pride of Britain tour. We are extremely supportive of what they are doing and it is another way in which we can recognise the amazing yet often unsung contributions made by our Service personnel and their families.
The Pride of Britain's categories include awards for outstanding bravery, local hero and special recognition.
Nominations must be received by midnight on Friday 31 August 2012 to be considered for Pride of Britain 2012.
For more details, see the Pride of Britain website at Related Links.
Published 17 August 2012