RAF honours its best apprentices
Four RAF apprentices were recognised for their outstanding achievements at the RAF Apprentice of the Year Awards which took place during last week's National Apprenticeship Week.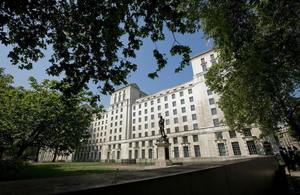 The four were nominated 'Best of the Best' among some 2,500 of their peers on the RAF apprenticeship programme.
RAF apprenticeships can last anywhere between one and three years, in 16 different diverse areas from business administration to aviation operations on the ground.
Senior Aircraftman Paul Hardie, who completed his apprenticeship in avionics engineering, won the RAF Best Advanced Apprentice Award. He now serves at RAF Waddington in Lincolnshire. SAC Hardie said:
I'm really proud to achieve this top award. If I ever wanted to leave the RAF, with my qualifications I could work for civilian companies like Virgin and Monarch. I would recommend an apprenticeship in the RAF to anyone.
Senior Aircraftwoman Gemma Ward won the RAF Best Intermediate Apprentice Award. Her hospitality and catering apprenticeship has seen SAC Ward excel at RAF Benson. In seven months she supported over 100 elaborate functions in the Officers' Mess that had an impressive guest list, including royalty and cabinet ministers. SAC Ward said:
At the start of my RAF apprenticeship, I never imagined that I would receive such an award or meet so many VIPs.
Information and Communications Technology Technician Senior Aircraftman Gareth Finlow won the Runner-up Best Advanced Apprentice Award. SAC Finlow now serves at RAF Waddington, where his skills and aptitude for IT have been in demand:
Working in IT is an extension of my hobby, its fantastic," he said.
Senior Aircraftman Tom King followed his father, Flight Sergeant Steve King, and brother into the RAF. SAC King won the Runner-up Best Intermediate Apprentice Award. He undertook an apprenticeship in warehousing and storage over an 18-month period:
It is both interesting and diverse; no two days are the same. You can be comfortable working within an office environment one month and the next month you could have the challenge of a detachment in Afghanistan in inhospitable conditions refuelling helicopters," he said, adding:
One sentence that will always stick in my head is 'you can't fly without supply'.
Published 14 February 2012