RAF helps Olympic venue win award
RAF personnel played an important role in the Lee Valley White Water Centre in Hertfordshire being awarded the title of best Olympic venue.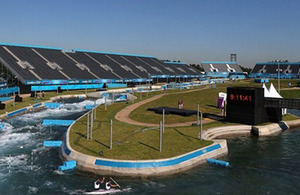 The centre hosted London 2012's Canoe Slalom event, and throughout the competition RAF personnel provided security for spectators as well as athletes from around the world.
A total of 281 airmen and women drawn from the RAF Marham-based No 3 Force Protection Wing and the Queen's Colour Squadron from RAF Northolt assisted police with providing security for the venue.
The RAF's method of searching people and vehicles was so successful that their operating procedures were duplicated and used at other venues to speed up their processes too.
Wing Commander Jason Sutton, Officer Commanding No 3 Force Protection Wing, who led the RAF contingent at Lee Valley, said:
The RAF personnel have been preparing since July for the Venue Security Force role and have done a great job.
"And now Lee Valley has been rated as the best Olympic venue by Games' organisers LOCOG. This is down, in part, to the way our people have contributed to the success of the venue."
The Lee Valley White Water Centre is 30 kilometres north of the Olympic Park, on the edge of the 1,000-acre (4 square kilometres) River Lee Country Park - part of the Lee Valley Regional Park.
The centre has two separate courses: a 300-metre Olympic-standard competition course with a 5.5m descent, and a 160-metre intermediate/training course with a 1.6m descent.
Published 9 August 2012