RAF helicopter crews train for Afghanistan in Jordanian desert
Royal Air Force helicopter crews have been training in the Jordanian desert for the first time in preparation for operations in Afghanistan and to develop relations with the Royal Jordanian Air Force.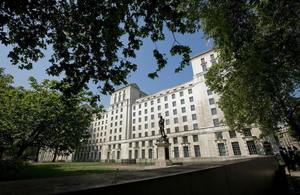 Over 300 personnel from RAF Benson and RAF Odiham, many preparing to go to Afghanistan for the first time, took part in Exercise Desert Vortex in Jordan.
Wing Commander John Watson was the Detachment Commander during the month-long exercise at King Faisal Air Base near Amman.
He said:
This is the first bilateral training exercise between the Royal Jordanian Air Force and elements of our Joint Helicopter Force. We have had six Chinooks from RAF Odiham and three Merlins from RAF Benson, along with aircrew, engineers and support staff from the two stations.
There were three main reasons to use Jordan; to develop relationships with their Air Force, to carry out pre-deployment training for Afghanistan and to provide environmental training in realistic and similar conditions to those we will face on operations.
For many of the newly-qualified pilots, this was the first time they had experienced flying in desert conditions.
Chinook pilot Flying Officer Tom Knapp has recently joined 18 Squadron at RAF Odiham and is due to deploy in August. He said:
You can't replicate these conditions in the UK. The thin air means the engines and aircraft have to work much harder, and the dust and humidity out here are very similar to that which we will face in Afghanistan, making this a great training opportunity.
I am a little bit apprehensive but at the same time I am really looking forward to actually getting out there and doing the job that I have been trained to do.
I'm keeping an open mind about what I might find out in Afghanistan - from what I have heard it will be challenging and I know I will be faced with things I haven't experienced before. But I love handling the Chinook. In particular I enjoy the dust landings, and working with the crew and engineers.
For pilots to complete a dust landing they rely on the assistance of the rear crew - the loadmasters - such as Sergeant Rebecca Nicholls from 18 Squadron.
Sergeant Nicholls explained:
Dust landings are when we come into an area where the pilots can lose sight of references on the ground - the dust cloud envelopes the whole of the aircraft, making it difficult for the pilots to see.
We become the pilot's eyes; we tell them how far off the ground we are, and whether there is any danger to be aware of.
Sergeant Nicholls also explained the role of a loadmaster:
Basically we are in charge of anything that goes on in the back - troops coming on or off, freight carried inside or beneath the helicopter, and we also assist the pilots in navigating.
Underslung loads are when we carry a load underneath - the pilots are looking out the front, they can't see what's going on beneath the aircraft, so we are essentially a 'satellite navigation' system for them; we tell them where they need to be above the load, whether they are too high, too low, if they need to come right or left a bit.
In the last three years Sergeant Nicholls has already clocked up three winter tours in Afghanistan, and will be going out this year during the summer:
Going to Afghanistan has become normal for me now; it's become part of my life. I know that every ten months I'll be going out for two months, but I enjoy my job - it's active and interesting," she said.
Alongside the Chinook crews were 90 instructors, aircrew and engineers from RAF Benson.
Squadron Leader Mark Biggadike from 78 Squadron oversaw the Merlin Force part of the exercise:
We've been training Merlin pilots and crewmen who have never operated in a desert before," he said.
It's quite a step up for the new guys, they have come straight out of training onto the Merlin Force, and this is their first time operating the aircraft in these kinds of conditions.
At a higher altitude the air is thinner, and it's hot, so training to fly in Jordan is invaluable. Learning how to land in dust clouds and fly at night in very low light conditions are areas we have been concentrating on.
As a result of this exercise in Jordan we now have another team of environmentally-qualified aircrew who will be ready for deployment to Afghanistan. During their time in Jordan, the Merlins have clocked up in excess of 230 flying hours, and carried out more than 900 dust landings - the training has gone very well.
Published 23 June 2010