RAF declared a top employer for women
The RAF's commitment to diversity and inclusivity has earned it a place in this year's 'Times Top 50 Employers for Women' list.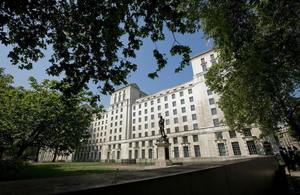 This is the second year in a row that the RAF has made The Times newspaper's Top 50 Employers for Women list, and comes just weeks after a g3 magazine reader's survey voted the RAF 'Recruiter of the Year 2012'. Gay campaigning organisation Stonewall has also recently ranked the RAF 56th in its top 100 employers listing.
Since 2005 the RAF has worked closely with Opportunity Now whose gender benchmarking system looks at an employer's policy, processes, human effect, initiative and delivery of best practise in relation to women's careers.
In addition, over the last two years, the RAF has developed a programme of events and courses promoting careers in science, technology and engineering to women. A combination of these two factors has helped get the RAF onto The Times' list.
Air Member for Personnel, the RAF's Diversity Champion, Air Marshal Andy Pulford, said:
I am delighted that the RAF has, once again, been recognised for its innovation, best practice and outstanding efforts to promote gender issues in the workplace.
To retain our place in The Times Top 50 Employers for Women is a huge accolade and highlights our continuing commitment to, and success in, making the RAF an employer of choice for women.
The hard work by the RAF's recruitment and diversity staff, with the full support of the RAF's senior leadership, over the last 12 months has culminated in this accolade, and I commend them for their dedication and desire to improve the lived-experience for RAF servicewomen and for their efforts to make the RAF more accessible than ever to women.
A continuing emphasis on strong leadership and careful career management is resulting in ongoing improvements to the lives of women in the RAF, allowing them to fulfil their potential in rewarding and challenging careers as diverse as flying, engineering and medicine.
This progress is reflected in the energy the RAF puts into promoting opportunities to young women entering the workplace with the RAF's STEM (science, technology, engineering and maths) and youth outreach work, adjudged by Opportunity Now to be 'outstanding best practice'.
Squadron Leader Glyn Dean at the RAF College Cranwell has been responsible for delivering a range of Women in Science and Engineering engagement events. She said:
The RAF has an enduring commitment to improving gender diversity within the organisation. We have put in place a recruitment strategy that engages with girls in order to raise STEM awareness, challenge gendered occupational stereotyping and lead to improved representation in the engineering and flying specialisations in the Service.
This work will contribute to a larger and more diverse future talent pool which will help us sustain our recruitment effort and will allow us to develop a workforce that is more reflective of the society we serve.
Commenting on the award, Group Captain Ian Tolfts, Head of RAF Recruiting, said:
This recognition, together with other recent accolades, is conclusive evidence that the RAF is genuinely an equal opportunities employer - a place where gender is irrelevant. Quite simply, the RAF is a meritocracy, an organisation where talent, not gender, race or sexuality, is recognised.
Published 13 April 2012