Press release
Radical overhaul of sentencing continues
From this month community sentences will have to include an element of punishment, as the radical overhaul of sentencing continues Justice Secretary Chris Grayling said today.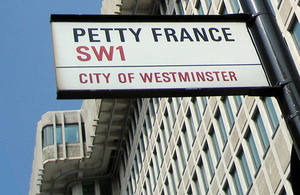 In a move to improve public confidence in community sentences, adult sentences will now have to include some form of punishment.
Last year more than 130,000 community sentences were handed down by the courts. Around one-third of community sentences contain no punitive element but from 11 December this will change. Most sentences will contain an element of formal punishment such as a fine, unpaid work, curfew or exclusion from certain areas. This could affect around 40,000 offenders per year.
This is the latest step in a wide range of sentencing reforms ranging from restrictions on the use of cautions for more serious offences to the introduction of a mandatory life sentence for the most serious repeat offenders.
One year ago this week a range of tougher sentences and new offences, introduced in the Legal Aid, Sentencing and Punishment of Offenders Act 2012, came into effect including:
'Two-strikes' — mandatory life sentence for anyone convicted of a second very serious sexual or violent offence
Tough new sentence — Extended Determinate Sentence where offenders spend at least two-thirds of their sentence behind bars and extra time being monitored in the community
Aggravated knife possession — new offences of using a knife to threaten and endanger someone in a public place or school. Anyone convicted of these offences faces a mandatory custodial sentence of at least six months for adults and a four month Detention and Training Order for 16 and 17 year olds.
Clampdown on dangerous drivers — new offence of causing serious injury by dangerous driving which carries a maximum sentence of five years in prison.
We anticipate more than 2000 offenders per year will be affected by these changes:
'Two-strikes' mandatory life — 20 offenders per year
Extended Determinate Sentence — 1,200 offenders per year
Aggravated knife possession — up to 1000 offenders per year
Causing serious injury by dangerous driving — 20 offenders per year.
Chris Grayling said:
From my first day in this job I have been clear that punishment must mean punishment. A community sentence shouldn't just consist of a meeting with an offender manager, prisoners shouldn't spend their time in prison watching satellite television and the worst offenders should get the very toughest sentences.

Step by step we're overhauling sentencing and sending a clear message to criminals that crime doesn't pay. We're on the side of people who work hard and want to get on and my message is this - if you break the law you will be punished.
Currently, only around two-thirds of community orders contain punishment such as a curfew or unpaid work. Under the reforms that will come into effect this month we expect this to rise significantly. In very exceptional circumstances judges will have the power not to include the element of punishment.
Research suggests the inclusion of a punitive requirement alongside supervision in community sentences, can be more effective in reducing reoffending than supervision alone.
Notes to editors:
The following changes 'Two-strikes mandatory life, Extended Determinate Sentence Aggravated knife possession, Causing serious injury by dangerous driving came into effect on 3 December 2012 following their introduction in the legal Aid, Sentencing and Punishment of Offenders Act 2012.
Following changes in the Crime and Courts Act 2013 from 11 December 2013 almost all adult community sentences (orders) will contain an element of punishment
The effectiveness of different community order requirements for offenders who received an OASys assessment' research paper
For more information please contact the Ministry of Justice press office on 020 3334 3536.
Published 2 December 2013