News story
R&D spend of leading UK companies holds up during downturn
The R&D Scoreboard is an annual investigation of the top 1,000 UK and top 1,000 global corporate investors in research and development. Spend…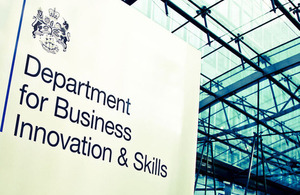 The R&D Scoreboard is an annual investigation of the top 1,000 UK and top 1,000 global corporate investors in research and development.
Spend by the UK companies listed decreased by 0.6 per cent in 2009, despite the economic downturn. Spending compared favourably with decreases in investment by top companies in the US, France and Germany.
The decrease was largely due to lower spend by firms in fixed line telecommunications, banking, aerospace and defence sectors, the report found.
Key facts from the latest R&D scoreboard include:
The 1,000 UK companies that invested the most in R&D spent £25.3b in 2009, down 0.6% year on year.

80% of R&D carried out by the 1,000 top-performing companies is conducted by the 100 most active companies.

Globally, the 1,000 companies most active in R&D spent a combined £344bn, a decrease of 1.9% year on year. The 50 UK companies in this group also decreased their R&D investment (by 1% overall).

78% of global R&D occurs in five countries: the US; Japan; Germany; France and the UK.
UK Sectors that increased their overall R&D investment included automobiles and parts, software and computer services and technology hardware and equipment.
Universities and Science Minister David Willetts said:
"The Coalition sees technology and innovation as a key driver of growth. We have set our ambition on creating the most competitive corporate tax system in the G20 and will shortly be consulting with business on the taxation of Intellectual Property, the support that R&D Tax Credits provide for innovation and the potential for creating a Patent Box in the UK.
"All of these measures demonstrate that the Coalition is committed to making the UK the most technology-friendly country in the G20."
Notes to editors:
The 2009 R&D Scoreboard is the 20th annual edition of the publication. It is the final edition to be published by the Department for Business, Innovation & Skills (BIS). This scoreboard and previous editions are available at www.bis.gov.uk/randscoreboard.

The report summarises the 2009 company data on investment in R&D and financial performance of the 1,000 UK companies that have invested most in R&D, including foreign-owned companies whose R&D is conducted in the UK and reported in the UK1000. To put the UK performance into perspective, it also includes data on the 1,000 most R&D active companies globally (G1000) and highlights the main trends in both the UK and global data.

The scoreboard also includes a number of case studies.

Source data was collated by Company Reporting (Bespoke Databases) and the commentary was written by the Economist Intelligence Unit.

BIS' online newsroom contains the latest press notices, speeches, as well as video and images for download. It also features an up to date list of BIS press office contacts. See http://www.bis.gov.uk/newsroom for more information.
Notes to Editors
Contact Information
Name BIS Press Office Job Title
Division COI Phone
Fax
Mobile
Email NDS.BIS@coi.gsi.gov.uk
Name Michael Gibbs Job Title
Division Department for Business, Innovation and Skills Phone 020 7215 1635 Fax
Mobile
Published 25 November 2010