Queens Counsel in England and Wales 2013
Her Majesty the Queen has approved the appointment of 84 new Queen's Counsel. The full list in seniority order is available below.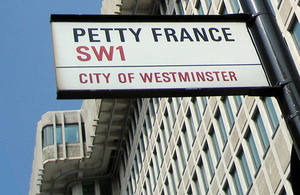 Her Majesty the Queen has approved the appointment of 84 new Queen's Counsel. The full list in seniority order is available below.
Alongside the advocates being appointed QC, Her Majesty has also approved the appointment of eight new Queen's Counsel Honoris Causa (listed below).
The Lord Chancellor will preside over the appointment ceremony, where the rank will formally be bestowed upon successful applicants, at Westminster Hall on 27 March 2013.
Mr Edward Ian Walker-Arnott was admitted as a solicitor in 1963.  He has held a long career as a commercial lawyer and was Senior Partner of Herbert Smith Freehills where he remains a consultant. He has been involved in a number of high profile cases, including the creation, initial listing and subsequent development of Eurotunnel and advising Maxwell Communications following the death of Robert Maxwell.  Edward also advised on a number of leading judicial review and company law cases and has contributed to the development and teaching of law.  Between 1977 and1982 he sat on the departmental Cork Inquiry into insolvency law which led to the enactment of the Insolvency Act 1986. He also sat on the advisory group assisting Sir David Clementi in his review of the regulation of the legal profession.  In 1999 he was made a fellow of the University College London and became a visiting professor at the university where he still lectures today. He also lectures internationally in India at one of the country's national law schools.
Ruth Lynn, The Baroness Deech of Cumnor, DBE is a barrister and legal academic who was called to the Bar in 1967.  In a career spanning more than 40 years she has been awarded several honorary degrees and was appointed Dame Commander of the British Empire in June 2002. She is a legal academic in family law and a former Principal of St. Anne's College Oxford (1991-2004).  She has published widely on issues ranging from genetics, IVF and the regulation of infertility treatment to family and property law. Ruth was chair of the UK Human Fertilisation and Embryology Authority (1994-2002) and dealt with the legalisation of stem cell research.  She was a trustee of the Rhodes Scholarships from 1997 to 2006, a governor of the BBC from 2002 to 2006 and the first Independent Adjudicator for Higher Education from 2004 to 2008. Between 2008 and 2012 she was the Gresham Professor of Law and from 2006 to 2010 she was a member of the Select Committee on the Merits of Statutory Instruments. An active member of the House of Lords, she is a member of the Select Committee on Communications and has been chair of the Bar Standards Board since 2009.
Professor Ian Frank Fletcher is a legal academic and barrister. He was called to the Bar in 1971 and was elected as a Bencher of Lincoln's Inn in 2003. He has held a long career in the field of comparative insolvency law and international cooperation in insolvency law and cases.  He is Emeritus Professor in the Faculty of Laws at University College London and was elected as an International Fellow of the American College of Bankruptcy in 2008.  Ian is widely published including 'The Law of Insolvency' and 'Insolvency in Private International Law' and is involved in part time practice at the Bar. He has also played a leading role in work commissioned by the American Law Institute and International Insolvency Institute, developing principles for cooperation in international insolvency cases. Ian's report on this is being disseminated to courts, practitioners and legislators throughout the world as a basis for the conduct of international insolvency cases.  He  is an active member of The International Association of Restructuring and Insolvency and Bankruptcy Professionals (INSOL International) where in 1995 he founded the INSOL International Academics Group.
Professor Mark Freedland FBA was called to the Bar in 1971. He is a Bencher of Gray's Inn and an Honorary Member of Chambers at 3 Verulam Buildings.  A former Professor of Employment Law at the University of Oxford and a law tutor at St John's College, Oxford, he is currently a Senior Research Fellow at the Oxford Law Faculty and its Institute of European and Comparative Law. His academic career has specialised in Labour and Employment Law and Public Law and his published works include, 'The Contract of Employment' (1976) and 'The Personal Employment Contract' (2003) while he has co-authored 'Towards a Flexible Labour Market' (2005) and 'The Legal Construction of Personal Work Relations' (2012).  He holds an Honorary Doctorate at the University of Paris II and held one of the highly-prestigious Leverhulme Major Research Fellowships. He was elected a Fellow of the British Academy in 2001 and has provided studies for the European Commission and the International Labour Organisation on data protection in employment and employment protection legislation.  He has recently been made an Honorary Professor in the Faculty of Laws at University College London where he was once a law student.
Professor Geraldine Van Bueren is a Professor of International Human Rights Law at Queen Mary, London, and a barrister at Doughty Street Chambers, which specialises in human rights. She is one of the original drafters of the United Nations Convention on the Rights of the Child - the world's most ratified human rights treaty. UNESCO commissioned her to write 'Law's Duty to the Poor' which argues that the law and lawyers have a duty to assist the impoverished and the vulnerable in both rich and poor countries. She has served as lead commissioner for human rights on the Equality and Human Rights Commission and is a Bencher of the Middle Temple. Her published work includes 'The International Law on the Rights of the Child' and she has advised Uganda on children's rights and Japan on child sexual exploitation as well as consulting the United Nations and the Commonwealth.
Miss Eileen Philomena Carroll was admitted as a solicitor on 15 April 1981. She has helped to establish mediation in the Civil Justice System during the last 22 years and was one of the UK's first commercial mediators. As a partner in an international law firm she was the key founder of the Centre for Effective Dispute Resolution (CEDR) and worked to create a non-profit campaigning body and international leader in dispute resolution.  She also founded the first commercial mediator training course. In 1997 Eileen received a US award for excellence in bringing Alternative Dispute Resolution to the UK's legal systems. As well as contributing to the leadership role at CEDR, she works as a senior mediation practitioner where she is regularly called upon by large UK and overseas organisations to resolve disputes through mediation, including the US Department for State, the BBC and global banks.
Mr Stefan Tylney Cross was admitted as a solicitor on 1 August 1985. He has worked widely in the area of equal pay law. Stefan fought for equal pay rights for women on a no-win no-fee basis. He brought about substantial changes for several hundred thousand women and as a result of his work more than £1billion has been paid to low-paid women. Stefan has worked on 44 reported equal pay cases and has also championed the cause of low-paid men.
Professor David Christopher Ormerod is a legal academic and barrister.  He was called to the Bar (Middle Temple) in 2002 and is a door tenant in the Chambers of Max Hill QC. He was elected a Bencher of Middle Temple in 2009. As a Professor at Queen Mary College, University of London, he has widely published on criminal law including 'Smith and Hogan's Criminal Law', 'Blackstone's Criminal Practice' (general editor with Sir Anthony Hooper) and 'Fraud: Criminal law and Practice' (with Clare Montgomery QC). He holds a number of editorial positions including editor of the Criminal Law Review.  He is a member of the Education Committee of the Criminal Bar Association and the Criminal Justice Council and recently assisted the Judicial Studies Board in drafting their Crown Court Bench Book (2010).  He lectures regularly to the profession and judiciary, including the Crown Prosecution Service, Serious Fraud Office, Service Prosecution Authority and the Judicial College.  He was appointed Law Commissioner for England and Wales in September 2010.
The full list in seniority order (PDF)
Notes to editors
The award of Queen's Counsel honoris causa (Honorary QC) is made to lawyers who have made a major contribution to the law of England & Wales outside practice in the courts. The Ministry of Justice invited nominations for consideration as Honorary QC between 1 June and 31 July 2012 and a selection panel made its recommendations to the Lord Chancellor in December 2012. The Lord Chancellor accepted and passed the recommendations to Her Majesty the Queen in January 2013. The next round of nominations is due to open in June 2013.
The process for the appointment of practising Queen's Counsel (QC) is administered by Queen's Counsel Appointments (QCA) which is independent of both Government and the professions. Applications for this round of appointments were open from 8 March to 18 April 2012. The Panel made its recommendations to the Lord Chancellor in December 2012, who accepted and passed the recommendations to Her Majesty the Queen in January 2013. The next appointment round is due to open in March 2013. Details of the competency framework and the selection process can be obtained from the Queen's Counsel Appointments website.
Read the full statistical breakdown of the latest applications and appointments for practising QCs, along with equivalent figures from previous years, is attached. It should be noted that, because the system of selection used before 2003 was very different from the current one, meaningful statistical comparisons are unlikely to be possible.
The appointment ceremony in Westminster Hall is by invitation only.
For further information contact the Ministry of Justice press office on 0203 334 3536
Published 27 February 2013