Queen's Counsel in England and Wales, 2011-12
Her Majesty The Queen has approved the appointment of 88 new Queen's Counsel.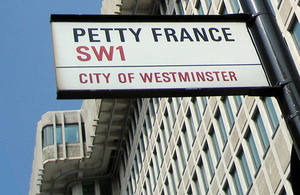 Her Majesty The Queen has approved the appointment of 88 new Queen's Counsel. The full list in seniority order is attached.  Alongside the advocates being appointed QC, Her Majesty has also approved the appointment of five new Queen's Counsel Honoris Causa (listed below).
The Lord Chancellor will preside over the appointment ceremony, where the rank will formally be bestowed upon successful applicants, at Westminster Hall on 30th March 2012.
Professor Ann Dawn Harrison Oliver (likes to be known as Professor Dawn Oliver) was called to the Bar by the Middle Temple in 1965. She is Emeritus Professor of Constitutional Law at University College London. She served as Dean of the Faculty and Head of Department from 1993-8 and as Dean in 2007. She has contributed strongly to the reputation of the Faculty of Laws at UCL and she is widely published in the constitutional law field. Her contributions to public affairs include appointment to the Royal Commission on Reform of the House of Lords (1999-2000). She served as the Treasurer of the Honourable Society of the Middle Temple in 2011.
Michael Andrew Hartland Payton was admitted as a solicitor in 1967. His work as Senior Partner of Clyde & Co, has greatly contributed to its growth into a leading firm. He has been involved with many major commercial disputes, for example, Piper Alpha loss, Aggregation issues following 9/11 in New York, Deepwater Horizon in the U.S Gulf and catastrophic pollution that followed, amongst others. He is involved in pro bono work.  He was for many years Honorary Legal Adviser to Southwark Citizens Advice Bureau. He received on behalf of Clyde & Co an award in 2007 of the Queen's Award for Enterprise.
Stephen Ernest Grosz was admitted as a solicitor in 1978. His work has greatly contributed to the development of equality & human rights law: He is widely published, and is co-author of The 1998 Act and the European Convention, (2000) and Human Rights: Judicial Protection in the United Kingdom (2008).  He has been or is currently a member of various legal and human rights bodies, for example, JUSTICE, Liberty, the British Institute of Human Rights and the Human Rights Lawyers Association. He has organised and spoken at many conferences and lectures.   He also contributed to the planning of the Judicial Studies Board's (JSB) training programme for full and part-time judiciary on the Human Rights Act 1998.  His work has included seminal cases before the courts, for example, Marshall v Southampton and S.W. Hants Area Health Authority (which related to sex discrimination in retirement ages, and to remedies for discrimination), and R v Foreign Secretary ex parte World Development Movement (which related to the legality of aid for the Pergau Dam).
Charles Pritam Singh Dhanowa was admitted as a solicitor in 1986.  His work has greatly contributed to the Competition Appeal Tribunal (CAT) as Registrar and co-architect of the CAT's procedural rules.  He is the Secretary-General of the Association of European Competition Law Judges.  His work includes harmonising legal systems in Europe, providing a better understanding of English law in both procedural and substantive aspects.  
Professor Sandra Fredman is a barrister, legal academic, and a Fellow of the British Academy. She was called to the bar in 2002. Her work has greatly contributed to the fields of discrimination and human rights law. She has published widely in law journals and written a number of books, including Discrimination Law which has been translated into other languages. She has been invited to give numerous lectures and keynote addresses internationally. She has been an expert adviser on discrimination law in several countries, and has worked closely with the European Commission. She is currently Rhodes Professor of the Laws of the British Commonwealth and the USA at Oxford University and Honorary Professor at the University of Cape Town.
Notes to editors
The award of Queen's Counsel honoris causa (Honorary QC) is made to lawyers who have made a major contribution to the law of England & Wales outside practice in the courts. The Ministry of Justice invited nominations for consideration as Honorary QC during the period 1 June and 31 July 2011. A small selection panel made its recommendations to the Lord Chancellor in December 2011. The Lord Chancellor accepted and passed the recommendations to Her Majesty the Queen in January 2012. The next round of nominations is due to open in June 2012.

The process for the appointment of practising Queen's Counsel (QC) is administered by Queen's Counsel Appointments (QCA), which is independent of both Government and the professions. Applications for this round of appointments were invited from Wednesday 9th March 2011. The QCA Selection Panel began its work as soon as applications closed on Wednesday 20th April 2011.  The Panel made its recommendations to the Lord Chancellor in December 2011. The Lord Chancellor accepted and passed the recommendations to Her Majesty the Queen in January 2012. The next appointment round is due to open in March 2012. Details of the competency framework and the selection process can be obtained from the Queen's Counsel Appointments website.

The appointment ceremony in Westminster Hall is by invitation only. Queens Counsel statistics 1995-12 (Excel)
List of Queen's Counsel in Order of Seniority
Published 29 February 2012