World news story
Queen's birthday celebration 2019 in Freetown, Sierra Leone
On 17 April 2019, the British High Commission in Freetown celebrated the partnership between the UK and Sierra Leone to mark Her Majesty the Queen's 93rd birthday.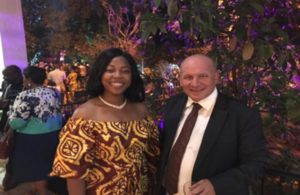 In his speech to those assembled, which included the First Lady of the Republic of Sierra Leone Mrs Fatima Maada Bio and several members of cabinet, the British High Commissioner, Mr Guy Warrington said:
The UK has been Sierra Leone's partner and friend for a very long time. It has been a long and fruitful relationship. We played a central role in bringing the civil war to an end, and helping build the peace. We helped end the scourge of Ebola. We were there when the landslide required a quick and intense response. More recently, we demonstrated our commitment in times of trouble by providing shelter to those left homeless by the Kroo Bay fire.

That commitment has continued over the last year. The UK remains by far the biggest bilateral contributor of development assistance to Sierra Leone. Sierra Leone remains the biggest bilateral recipient of development assistance in Africa on a per capita basis. A strong, prosperous and peaceful Sierra Leone is our common objective. Sierra Leone's long-term success matters to the UK, and this year we were pleased to welcome the new National Development Plan which sets the scene for the next 5 years. We are particularly encouraged by its emphasis on human capital, on food and agriculture, renewables, and on environmental protection.

2018 saw the British Council celebrate 75 years of cultural relations activity in Sierra Leone. A common factor in all its 75 years' work has been the British Council's role in linking the people of Sierra Leone with people in the UK. With no involvement in politics or commercial self-interest, the British Council in Sierra Leone is seen as an integral part of the educational and cultural landscape. Long may this continue and flourish from their iconic building, around the corner from State House on Tower Hill.

The importance the UK government places on our bilateral relationship with Sierra Leone was demonstrated again when our Minister for Africa visited Sierra Leone in May. Minister Harriet Baldwin met the new Presidential team and celebrated the co-operation between the UK and Sierra Leone. She saw how the UK's longstanding partnership with Sierra Leone is improving the prosperity of the country. At a school where girls are being supported through UK aid to stay in school, be safe and learn, the minister witnessed how the UK is working with Sierra Leone on this priority issue.

We have also both made commitments to uphold the rule of law and secure justice for all, and to safeguard free speech and wider freedoms and rights, including those of civil society groups and NGOs. British INGOs play a key role in the development process.

The ISAT-funded Horton Academy's regional and cross-security sector footprint continues to expand. 10 of 14 ECOWAS countries are represented by students and instructors from militaries, national and metropolitan police forces, fire, correctional and protection services, national security agencies and road safety corps. All of which recognises the Government of Sierra Leone's developing collaborative approach to dealing with the emerging threats confronting Africa and the sub region. ISAT funded the recruitment and training of a cadre of 329 female officer cadets and recruits, with their six month training course having begun on the International Women's Day weekend in March. This is a first for Sierra Leone, reflecting RSLAF's commitment to balancing its force with a baseline of talent that properly represents Sierra Leone's society and furthers its aspirations to operate in regional and international alliances such as the UN and AU.

We share the government's desire to move the bilateral relationship from one based on aid to one based on trade. I remain committed to getting more British Companies to come and invest in Sierra Leone. This country will only really prosper when it has a vibrant and successful formal private sector.

We are supporting a more prosperous and inclusive Sierra Leone which is better able to invest in its own people and build a healthy and growing economy that can create jobs. Through our new flagship private sector development programme – Invest Salone – we look forward to developing investment partnerships with the private sector and working with the Government to improve the ease of doing business. This will catalyse investment in His Excellency's priority sectors – agriculture, tourism and fisheries – supporting both firms and the government to enable Sierra Leone to realise the benefits of international trade.
The Sierra Leone Deputy Minister of Foreign Affairs and International Corporation, Hon Nimatulai Bah-Chang, who was the Guest of Honour, said:
Sierra Leone and the United Kingdom have and continue to enjoy fruitful and excellent relations at both bilateral and multilateral levels.

As a government, we deeply acknowledge and appreciate the enormous assistance provided by the British Government over the years, in various areas including gender, good governance, education, human rights and justice, as well as its response to disasters that have occurred in Sierra Leone. We are appreciative of the British Governments efforts towards the implementation of the free quality education programme.
The event was graced by Sierra Leone Speaker of Parliament, honourable members of parliament, Sierra Leone Chief Justice, Sierra Leone Anti-corruption Commissioner, Sierra Leone Chief of Defence, staff and ministers of Trade and Industry, Health and Sanitation, Energy, Information and Communication, Political Affairs, Labour, Social Welfare and Gender, Youth Affairs, Tertiary Education and Representatives from Civil Society Organisations and the diplomatic community in Sierra Leone.
Published 19 April 2019