News story
Queen's Birthday 2012 Honours List
Congratulations to all local government, fire service and voluntary sector staff recognised in this year's Queen's Birthday Honours List.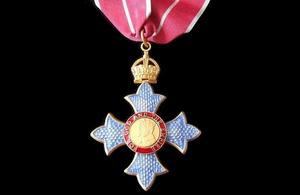 Local Government Minister Grant Shapps said:
I would like congratulate all those from local government, the fire service and voluntary sector on receiving an award in the Queen's Birthday 2012 Honours List. This is a fantastic achievement and great recognition of all their hard work and dedication to the community. Well done and thank you!
Some of the recipients nominated for services to the community, local government and the Fire Service include:
Tony Burton, lately Director, Civic Voice receives a CBE For services to Planning, Local Government and Communities
Robert Gordon, DL, leader of Hertfordshire County Council receives a CBE for services to Local Government
Joe Anderson, leader of Liverpool City Council receives an OBE for services to Local Government and the community
James Carlson receives an OBE for services to Combating Homelessness.
Patrick Clarke, Director of Operations, UK Power Networks receives an OBE for services to Black Asian and Minority Ethnic Youth Mentoring
Sally Reynolds, Co-founder and lately Chief Executive, Social Firms UK receives an OBE for services to Equality in the Labour Market
Joseph Pike receives a MBE for services to Local Government in Essex
Kevin Ruane, Watch Manager, Nottinghamshire Fire and Rescue Service receives a MBE for services to the Fire and Rescue Service
Stephen Beckley, Deputy Chief Fire Officer, Director of Operations, West Yorkshire Fire and Rescue Service receives a Queens Fire Service Medal
William Gough, Group Commander, West Midland Fire Service receives a Queens Fire Service Medal
David Howells, Lately Director of Corporate Services, Hampshire Fire and Rescue Service receives a Queens Fire Service Medal
Paul Richardson, Deputy Chief Fire Officer, Lancashire Fire and Rescue Service receives a Queens Fire Service Medal
Neil Fritzsche, Area Manager (Response), Lincolnshire Fire and Rescue receives a Queens Fire Service Medal
Queen's Birthday Honours 2012 - full list (PDF, 19.8KB, 4 pages)
Published 16 June 2012