World news story
Queen's Baton and Scottish Minister arrive in Zambia
On Sunday 26 January 2014 the Queen's Baton arrived in Zambia as part of the warm-up to the Commonwealth Games.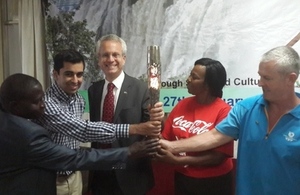 A Minister from the Scottish Government, Mr Humza Yousaf, who is the Minister for External Affairs and International Development, came at the same time.
The Baton is travelling to all Commonwealth countries and territories in the lead-up to the Commonwealth Games, which are being held in Glasgow in July. It came to Zambia from Malawi, and on Tuesday morning will go on to Namibia.
On Monday a relay was held in which the Baton was carried through Lusaka from Cabinet Office to the Olympic Youth Development Centre. The Vice-President, Dr Guy Scott, and the Minister of Youth and Sports, Hon Chishimba Kambwili, officiated at the send-off of the Baton. The Scottish Minister, Mr Yousaf, and the British High Commissioner, James Thornton, were also present. James Thornton rall run a leg of the relay.
The British High Commissioner took Mr Yousaf, who is Scottish Government Minister for International Development and External Affairs, to call on the Minister of Finance, Hon Alexander Chikwanda. Mr Yousaf will also meet representatives of Zambian civil society to discuss climate change, and will visit a conservation farming project that is funded by the Scottish Government.
The British High Commissioner said:
"I am delighted to be welcoming the Queen's Baton to Zambia. Zambia is an important member of the Commonwealth, which is an organisation of diverse nations with strong ties of history, friendship and shared values. The Commonwealth Games in Glasgow in July will be an exciting follow-up to the London Olympics of 2012. I hope that Zambia will be able to send a strong team.
I am also delighted to welcome the Scottish Minister to Zambia. Scotland and Zambia have strong ties going all the way back to David Livingstone. Like the rest of the UK, Scotland is keen to support Zambia's development."
Further information
The Queen's Baton Relay (QBR) is one of the greatest traditions of the Commonwealth Games. It was introduced at the British Empire and Commonwealth Games in Cardiff, Wales in 1958. From here it has developed into a symbol of unity and diversity, binding all the 70 nations and territories of the Commonwealth with the solitary message of peace and harmony through sports.

The Baton contains within it a message from the Queen which will only be retrieved and read at the opening ceremony of the Commonwealth Games. This year's games will be held in Glasgow, Scotland. It is this Baton which is passed around in form of a relay from member state to member state and within member states.

From Zambia, The QBR heads to Namibia then Botswana on its continued journey through the Commonwealth member states before going back to Scotland in readiness for the official opening of the games in July.

The queen's baton relay will pass through 70 nations and territories covering a distance of 190,000 km in 288 days.

The Scottish Government is a devolved administration within the United Kingdom
Details of the QBR programme and Mr Yousaf's programme, including reference to the HC's reception on Monday night (invitation only; for press access, contact Tresford Mumba at the British High Commission on +260977861491 or Alfred Kapalayi on +260955945771)
For further details on the QBR, please visit the QBR website
For more on the Glasgow Games go to: www.Glasgow2014.com
Published 28 January 2014