World news story
Queen's 90th Birthday celebrated in Vientiane
On June 8, the largest-ever UK Day celebration in Laos marked the Queen's 90th birthday and the 400th anniversary of Shakespeare's death.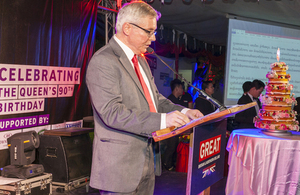 Her Majesty the Queen's Birthday is traditionally celebrated as the UK's National Day by British diplomatic missions. On Wednesday, the Queen's 90th Birthday gave the occasion for a particularly large celebration in the garden of the British Ambassador's Residence. The event was attended by more than 300 guests from the Lao government, diplomatic missions, international organizations and British businesses. This largest-ever UK National Day celebration in Laos also marks the progress in Lao-UK relationships. The past year witnessed not only the opening of the brand-new British Embassy Vientiane by Permanent Undersecretary Sir Simon McDonald, but also the first Lao-UK political consultations as well as the celebration of 60 years of Lao-UK diplomatic relations. In his official address at the reception, British Ambassador Hugh Evans therefore characterised the relationship between both countries as "ever expanding friendship." The Ambassador also gave an outlook on the year to come, with the "creative partnership" between the United Kingdom and Laos evolving around closer cooperation in education development, bilateral trade and governance themes.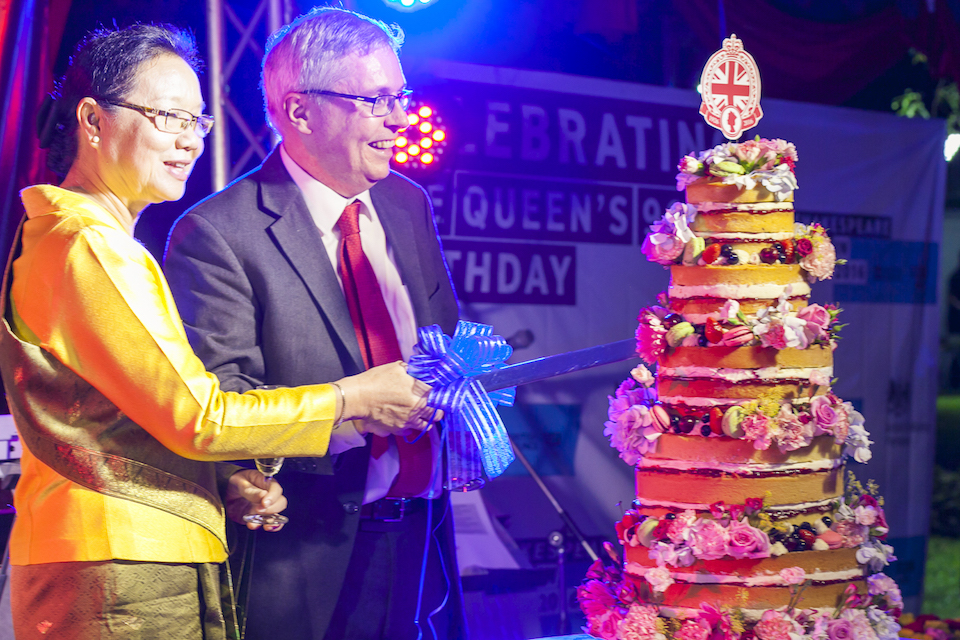 At the reception, special attention was given to the first stamp of Lao PDR designed by a foreign artist, British resident painter Janice Wollen. Her painting "Then and Now" features on the latest stamp printed by the Lao Post and marks the progress in both women's education and women's rights in Lao PDR. The director of the Lao Post Samith Khanthikone together with the artist presented a specially framed print of the stamp as a gift to the Queen. Ambassador Evans accepted the gift on behalf of the Royal Household and announced that the stamp will be send to London and added to the Royal Philatelic Collection.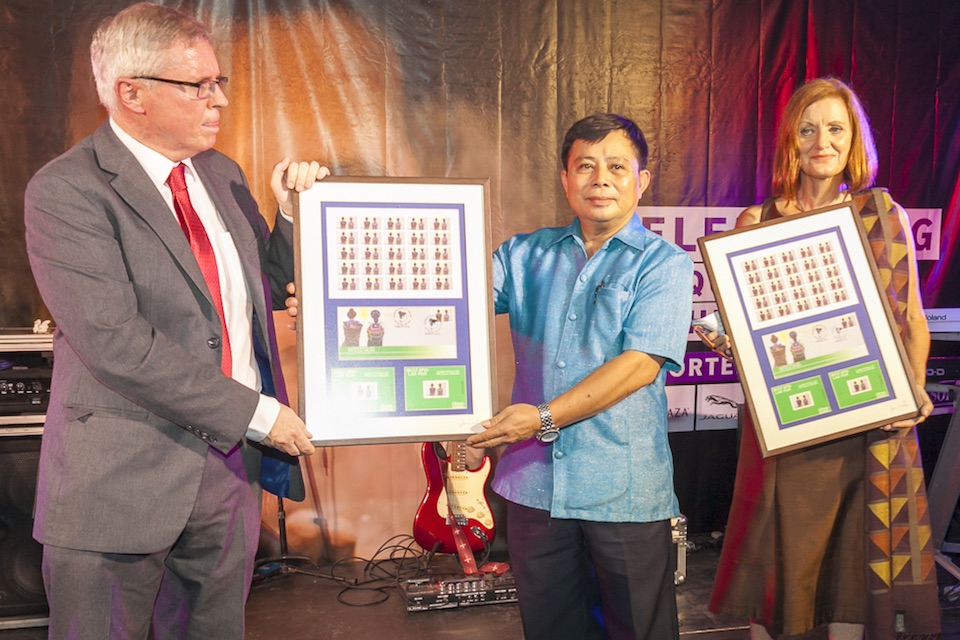 The Queen's Birthday Party was also used as a platform to promote some of the British Embassy's most important partners in Laos. It featured displays by large British companies that have established or are currently setting up business in Laos including the popular car maker Jaguar / Land Rover, Prudential life insurance, the British-operated hotel Crowne Plaza Vientiane as well as engineering firm Whessoe. Other partners showcasing their activities at the event were the Lao Rugby Federation, the Lao EPL Fan Club, Mine Advisory Group MAG and HALO Trust, Health Poverty Action as well as the newly established British Business Group.
You can find all pictures of the event on the UKinLaos Facebook page
Published 13 June 2016