World news story
Queen's 90th Birthday celebrated in Macedonia
British Embassy hosts Queen's 90th Birthday Party marking UK and Macedonia partnership.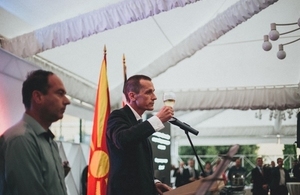 British Embassy in Macedonia hosted The Queen's 90th Birthday Party on 16 June in Skopje. Guests were welcomed by Her Majesty's Ambassador Charles Garrett and Mrs Veronique Garrett, Deputy Head of Mission Paul Edwards and Mrs Jane Edwards, Defence Attaché Lt Col Richard Parry and Mrs Fatime Parry.
Guests at the event included senior figures from Macedonian politics, business sector, diplomatic community in Macedonia, civil society, media, academics and education specialists, artists, British community in Macedonia, commercial partners of the Embassy and Chevening scholars from Macedonia.
Speaking at the event our Ambassador Charles Garrett said:
Dear Speaker of the Parliament of the Republic of Macedonia, Dear representatives of political parties, fellow diplomats, representatives of the media, of civil society, dear friends, ladies and gentlemen,
It is my great pleasure to welcome you all to this celebration of the 90th birthday of Her Majesty The Queen. In September last year Her Majesty became Britain's longest reigning monarch overtaking her Great-Great-Grandmother Queen Victoria. She was born in 1926, the year that a Scottish engineer, John Logie Baird, invented the television. And she became head of state in 1952, when Churchill was Prime Minister and Mother Teresa, famous daughter of Skopje, opened her first home for the dying and destitute in Calcutta.
This year's Queen's Birthday Party is even more special than normal – as we look back on a reign of remarkable significance, a reign that has shaped modern Britain.
During these years The Queen has been a stabilising force in a period of immense change. Each week she has held meetings to discuss global and national issues with her Prime Ministers – of which there have been 12 in total from Winston Churchill to David Cameron. And she has toured the globe, visiting 128 countries in 270 trips, in support of the interests of Britain and other countries where she is Head of State.
This year also marks the 400th year of Shakespeare's death – which explains, for anyone not quite sure, why there are people walking around in this evening's heat wearing the highly impractical Elizabethan dress – and why you get the chance to take a selfie holding your favourite Shakespeare quote.
One of my favourite Shakespeare quotes is from All's Well That Ends Well – when a mother advises her son to "Love all, trust a few, do wrong to none". That's not bad advice for anyone – including diplomats. I'll try to remember those words as I seek to build on the strong relationship the UK has with Macedonia. It's a relationship that rests on many thousands of individual links between our two countries – and on diplomatic ties based on open and honest exchanges.
Since independence, the UK has been a staunch supporter of Macedonia. You achieved EU candidate status under the UK's Presidency in 2005. And we have worked together every year since then to strengthen civil society, to build defence relationships (and here I would like welcome the familiar faces here tonight who were part of Exercise Aegean Wolf in Dojran last week). We have worked together to support the independence of the media, to build our successful commercial and investment activity in Macedonia, and to strengthen many other ties.
As our Minister for Europe David Lidington said during his visit to Macedonia in March – the UK has always been a candid friend of Macedonia. And this will continue.
2016 also marks another important milestone in the relationship between our two countries, as the British Council marks 20 years of their work in Macedonia. I would like to thank Eleonora Zaprova and her excellent team for all their creativity and hard work which has contributed so strongly to building links in the arts, in education and business, and most recently in the creative industries and vocational education.
Our Chevening scholarship scheme has brought nearly two hundred Macedonians to study in the UK. I like to think of them as making up the Best Club in Macedonia. Chevening alumni are in almost every corner of Macedonia, in business, politics, in civil society, research and the arts. And I'm glad to see many of them here tonight.
Before I finish with the traditional loyal toast, can I just take a moment to thank our key sponsors for the support they've provided to this event: Premiuim Auto Zentrum - Jaguar representatives in Macedonia, Alkaloid, Ramstore Mall, Tikvesh Winery, Skopska Pivara, Move One, Pernod Ricard. Thank you for your long-standing valuable partnership.
Let me also thank the members of the band of the ARM for their perfect rendition.
And let me thank all of you, friends of the British Embassy, for joining us in this celebration tonight.
Distinguished guests, Ladies and Gentlemen: "The Queen."
Published 22 June 2016