News story
Queen's awards to be presented by Vince Cable
The Government wants to make this decade the most entrepreneurial and dynamic in our history. This will be achieved by challenging aspirations…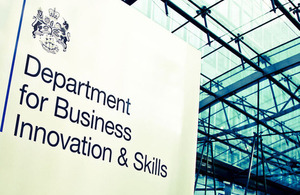 The Government wants to make this decade the most entrepreneurial and dynamic in our history. This will be achieved by challenging aspirations, embedding enterprise awareness into mainstream education and mentoring future entrepreneurs.
The Queen's Award for Enterprise Promotion rewards people who have played an outstanding and significant role in promoting the growth of business enterprise and entrepreneurial skills and attitudes in others - for example amongst young people or those in disadvantaged groups.
Business Secretary Vince Cable said:
"Celebrating our enterprising and innovative business culture is a wonderful way to highlight the exciting place entrepreneurship has in Britain today.
"The success of these people and their commitment to promoting enterprise and innovation is laudable. I warmly congratulate all the recipients and I look forward to meeting them in person.
"I want to see a whole new generation of entrepreneurs and would strongly encourage nominations for next year's Queen's Awards."
Anyone who has helped individuals to develop entrepreneurial approaches and achievements with a view to starting or building a business can be nominated for the Queen's Award for Enterprise Promotion. These activities can be at both a national or local level.
Recipients will receive an engraved chalice and a Grant of Appointment that outlines why the Award has been given. Business Secretary Vince Cable will present these before he, the recipients, their nominators and guests make their way to Buckingham Palace for a prestigious reception. Representatives from each winning business will also be attending the reception.
In addition to the Queen's Award for Enterprise Promotion, there are three awards for outstanding achievement by businesses in Innovation, International Trade and Sustainable Development. The awards are made annually by HM The Queen, and are only given for the highest levels of excellence demonstrated in each category. They are judged to a demanding level and winners receive a number of benefits and worldwide recognition.
This year's Lifetime Achievement Award will be presented to Mr Douglas Scott, Chief Executive Officer, TEDCO Ltd, Jarrow, Tyne and Wear. Mr Scott will receive the award for his work in promoting enterprise at both local and national levels in economically disadvantaged areas. Mr Scott has developed an award winning community enterprise coaching model, and encouraged enterprise within education projects. He is deputy chairman of the National Federation of Enterprise Agencies and serves on the board of UK Business Incubation.
Previous winners have come from a diverse selection of business sectors, including large and small businesses.
The application period for The Queen's Awards for Enterprise 2011 opens on 19 July 2010.
Notes to Editors
Notes to Editors
The forms for entry to the 2011 Queen's Awards will not be available until 19 July 2010. The application forms can be completed and submitted online at www.businesslink.gov.uk/queensawards.
The application guide explains why businesses and individuals should apply for an award. It describes the three business categories and individual award category, and gives information on eligibility, criteria and how to apply. It also gives details of the benefits of applying for and winning an award, as well as explaining the judging processes.
There are three categories that businesses can enter for The Queen's Awards for Enterprise. These categories are:
International Trade
Innovation
Sustainable Development
There is also an individual award category - The Queen's Award for Enterprise Promotion. Each Queen's Awards category has different application criteria that must be met before application.
To be able to apply for any of The Queen's Awards categories, businesses must:
Be based in the UK - Including the Channel Islands and the Isle of Man
Operate as a business unit of the UK economy
Have at least two full-time employees or part-time equivalents
Be able to demonstrate commercial success
Businesses can apply for more than one category as long as they meet the criteria for each category they want to apply for.
Department for Business, Innovation & Skills
7th Floor, 1 Victoria Street, London SW1H 0ET
| | | |
| --- | --- | --- |
| Press enquiries +44 (0)20 7215 5978 | (Out of hours) +44 (0)20 7215 3234/3505 | Public enquiries +44 (0)20 7215 5000 |
Textphone +44 (0)20 7215 6740 (for those with hearing impairment) | Press Office fax +44 (0)20 7222 4382
www.bis.gov.uk
BIS' online newsroom contains the latest press notices, speeches, as well as video and images for download. It also features an up to date list of BIS press office contacts. See http://www.bis.gov.uk/newsroom for more information.
Department for Business, Innovation & Skills
7th Floor, 1 Victoria Street, London SW1H 0ET
| | | |
| --- | --- | --- |
| Press enquiries +44 (0)20 7215 XXXX | (Out of hours) +44 (0)20 7215 3234/3505 | Public enquiries +44 (0)20 7215 5000 |
Textphone +44 (0)20 7215 6740 (for those with hearing impairment) | Press Office fax +44 (0)20 7222 4382
www.bis.gov.uk
Contact Information
Name BIS Press Office Job Title
Division COI Phone
Fax
Mobile
Email NDS.BIS@coi.gsi.gov.uk
Published 19 July 2010