QCS board confirms plans to examine North East Quality Contract Scheme
Timetable to consider proposals announced after directions hearing.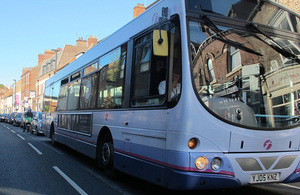 The Quality Contract Scheme (QCS) board has today (4 December 2014) confirmed it will hold oral evidence sessions into the proposed scheme in March and April 2015.
The announcement follows a directions hearing on 26 November where the QCS board agreed a timetable for considering the proposed North East Quality Scheme.
Chair of the Quality Contract Scheme (QCS) board, Mr Kevin Rooney, has written to the Secretary of State for Transport to confirm the board's intentions.
Mr Rooney indicated that the complexity of the Tyne and Wear scheme, the changes to the proposals since the initial consultation and the fact that this is the first scheme of its kind were exceptional circumstances. The need for fairness in the process requires the Board to exercise its powers to extend the timeframe to ensure proper scrutiny.
The board has instructed the Nexus and 3 bus operators (Arriva North East, Go North East and Stagecoach) to define and refine the issues, including analysis of the underlying economic modelling, by February 2015.
The directions hearing, held in Leeds, discussed working practices for the QCS board to ensure a fair, efficient and effective process is in place.
The board has also confirmed that it intends to publish a final report by 31 May 2015.
The oral evidence sessions will take place on 10 to 12 March, 17 to 19 March and 14 to 16 April 2015. The venue will be confirmed in due course.
Two other parties, Bridget Phillipson MP and the Tyne and Wear Passenger Transport Users Group have requested the opportunity to give oral evidence. The Nexus and the 3 operators will be able to cross examine the evidence presented by both parties during the hearings.
The 3 operators are required to provide their written statements of evidence, supporting documents and matters of issue by 30 January 2015.
The Nexus are required to consider all points raised by the operators and provide their written evidence and matters of issue by 20 February 2015.
The QCS board expects to receive skeleton arguments by 3 March 2015.
Press enquiries
Media office
Jubilee House
Published 4 December 2014