World news story
Qatar Foundation engages new UK partners at the QF/UK Road Ahead
Qatar Foundation institutions will participate in the QF/UK Road Ahead Forum to be held on Monday 19 January at King's College London.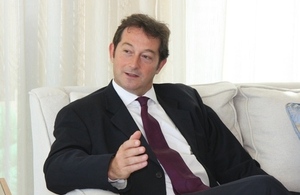 Institutions of the Qatar Foundation will visit the UK shortly to participate in the Qatar Foundation/United Kingdom Road Ahead Forum to be held on Monday 19 January at King's College London. The Forum implements a Memorandum of Understanding on Research and Education signed by the Qatar Foundation and its United Kingdom partners (The Department for Business Innovation & Skills, The British Council and Universities UK International Unit) in September 2013, and is one of a number of activities designed to develop closer links between the Qatar Foundation and the UK.
The visiting Qatar Foundation delegation will include representatives from: Hamad bin Khalifa University (HbKU); Qatar National Research Fund (QNRF); Qatar Energy and Environment Research Institute (QEERI); Qatar Biomedical Research Institute (QBRI); Qatar Computing Research Institute (QCRI); Qatar Science and Technology Park (QSTP); Qatar National Library (QNL); World Innovation Summit for Education (WISE).
The Forum will be both informative and interactive, and discussions will mainly focus on new directions for QF/UK partnerships. The Forum will also include breakout networking discussions on potential research collaboration in the following areas: computing; biomedical and health research; energy, environment & water applied research; assessing and measuring innovation in education; and open access information.
The British Ambassador to the State of Qatar, Mr Nicholas Hopton said:
I am delighted that this large number of Qatar Foundation institutions will be visiting the UK. This visit reflects the strong relationship we share with Qatar and our commitment to further enhance our existing cooperation, particularly in the research and education sector. We see Qatar as a strategic partner for the UK, and this Forum represents an excellent opportunity for UK institutions to learn about Qatar Foundation's priorities and discuss new partnerships.
Martin Hope, Director of the British Council in Qatar said:
We are delighted to be partnering Qatar Foundation in organizing the QF/UK Road Ahead Forum in London. The Forum is the result of our strong partnership work with Qatar Foundation over the last few years. This is the first time that the leaders of all QF institutions have had the opportunity to engage with UK HE and Research institutions to explore partnership opportunities. I hope in years to come people will look back on this event as a catalyst for even closer QF/UK ties.
Published 19 January 2015