World news story
Q&A on UK Visa system in Oman
"we're committed to supporting further growth and delivering customer service excellence" Matt Heath, Regional Director of UK visas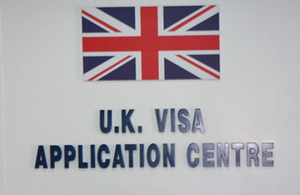 The number of UK visas issued to Omanis has risen rapidly in recent years, underscoring the popularity of the UK and the special relationship between the two countries. Following on from the Olympics last year, 2013 is forecast to break all records again.
The UK's global target is to return visa applications in 15 working days once the application has been submitted at the application centre. In recognition of the importance of Omani customers the average visa processing time in Muscat is less than five working days. Over 99% of visit visas are issued, highlighting how straight forward the process is.
As part of our programme of continuous improvement a series of enhancements have been implemented over recent years to provide greater convenience and choice for high value Omani customers:
*A priority application service is available, which usually returns an application in just three working days.
*Customers can use our VIP lounge when submitting an application for a more personal service.
*Applications and payments are now made online, delivering a streamlined system and reducing wait times at the application centre. The online visit form takes about 20 minutes to complete.
*An e-appointment system has been introduced for greater convenience, but if you can't wait for the next available appointment, for an additional fee you can simply walk in to the application centre, Sunday to Thursday 8 AM –9 AM and 4- 6 PM.
*For added convenience regular travellers to the UK are advised to apply for long term visits visas valid for 2, 5 and 10 years.
Matt Heath, Regional Director of UK visas and Immigration in the Gulf said:
These enhancements reflect the special importance placed on customers from Oman. In the past two years we've seen growth of over 40% and we're committed to supporting further growth and delivering customer service excellence."
Specific Questions
1.Length of application form is approx 20 pages, why can't it be simpler?
The visit application form is online. When completed a print out of the form is around three and a half pages (not including the disclaimers). It takes about 20 minutes to complete and asks for simple details about the applicant, their family and employment, the purpose of their visit and previous travel.
2.Why does it take so long to grant the visa?
The UK's global target is to return non settlement visa applications in 15 working days from submission to the VAC. The average visa processing time in Muscat in 2012 was less than five working days, though visa work is seasonal and so it can take a little longer during the summer months. If an applicant need a quicker service they can pay for a priority visa which is usually returned in three working days.
3.Why should all family members be interviewed, including children?
We rarely interview Omni visa applicants or their family members
4.The price of the visa is expensive why?
A UK visit visa costs just £80 which is in a similar price range to competitor countries, however different countries visas offer different benefits, for example the standard UK visit visa is multiple entry for 6 months, others countries visas are only single entry meaning they cannot be used more than once.
5.What is the reason behind asking the applicant to provide you with 6 month bank statement etc etc?
There are no mandatory documentary requirements for submitting a UK visit visa application. The applicant must prove that the meet our immigration rules which are simple:
*That they have a legal and legitimate reason to enter the UK
*That they can afford to maintain themselves when in the UK without access to public funds
*That they intend to leave at the end of the proposed trip
We try to help applicants by advising them which documents would prove that they meet the rules. For Omanis this is usually a recent bank statement, evidence of what they will be doing in the UK, and evidence of their employment status in Oman.
6.Why is the VIP service no longer offered?
We have several VIP services, applicants can use our VIP lounge for an additional fee and/or if they want their visa processed more quickly they can pay to use our priority service which usually returns the application in 3 working days.
7.Complaints about the visa application centre
The UK application centre is outsourced to VFS Global who in total manage 875 application centres for 44 sovereign governments in 87 countries globally. VFS takes its responsibility as an employer in Oman seriously: eight of the nine staff working in the centre are Omani. If applicants need information on applying for a visa we have a dedicated call centre for dealing with enquiries and guidance on applying for visas is available online. You can contact the call centre on +968 24497078/ +968 24498437 or by email on info.ukom@vfshelpline.com.
All complaints are investigated – should you have a complaint about the service received you can e-mail your complaint to: feedback.UKMCT@vfshelpline.com
Published 18 June 2013