News story
Putting young people at the heart of the fight against global poverty
The United Nations' (UN) International Youth Day is celebrated on August 12 each year to recognise the world's youth.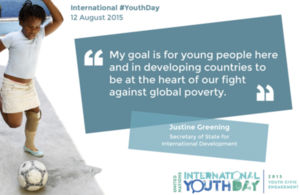 International Development Secretary Justine Greening is calling for the voices of young people to be heard in efforts to tackle global poverty, as the world celebrates International Youth Day 2015.
United Nations' (UN) International Youth Day is celebrated on August 12 each year to recognise efforts of the world's youth in making positive contributions to their communities and global society.
This year is an important year for young people to engage in the future of sustainable development as the UN General Assembly will meet in September to sign up to seventeen new global goals that aim to end extreme poverty. Young people are an essential part of the worldwide effort to lift people out of poverty for good.
International Development Secretary Justine Greening said:
Poverty, conflict and natural disasters mean that millions of girls and boys around the world don't have the opportunity to fulfil their potential. Many miss out on the chance to go to school, and learn skills they need for jobs – things many of us take for granted. For girls, it can mean no choice on who and when to get married and having children whilst also a child themselves.

The UK is working hard to make life better for these children, getting them into education, creating jobs, and tackling female genital mutilation and child marriage. My goal is for young people here and in developing countries to be at the heart of our fight against global poverty.

When young people have the opportunity to make their voice heard they can be the most powerful force for change. I hope to see even more of them speak up on behalf of those young people without a voice, and I want to work with them to shape a better future.
The Department for International Development is working to protect and empower young people across the developing world, including:
supporting 11 million children into primary and lower secondary school, and training more than 190,000 teachers;
helping to strengthen laws and increase access to health and education to tackle early marriage and female genital mutilation;
working with the #YouthForChange Youth Panel to make sure young voices are heard in high level discussions, including at the Girl Summit 2014; and
supporting 18-25 year old volunteers to fight poverty overseas through the International Citizenship Service (ICS) programme – so far over 15,000 young people have participated in the scheme and many ICS returned volunteers are continuing to be positive agents of change.
The theme of International Youth Day, 12 August 2015, is "Youth Civic Engagement".
Published 12 August 2015