Putting out fires and remembering 3.11: a visit to Tachikawa Life Safety Learning Centre
Paul Evans, one of our wardens (volunteers who help the embassy in an emergency) writes about his experiences of joining the embassy disaster prevention event at Tachikawa.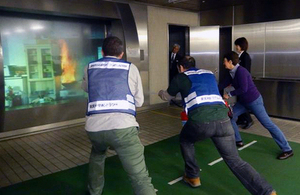 It's 9:00 on a Sunday morning and our small group of British nationals, embassy staff and an interpreter are standing in the foyer of the Tachikawa Bousai Kan (Life Safety Learning Centre). After brief introductions we are whisked into the Fire Fighting Training Room, where we get acquainted with the different types of fire extinguishers, but of course, what we really want to do is get our hands on the practice extinguishers and fight the video generated fire!
In the First Aid Training Room our task today is to become familiar with the AED (Automated External Defibrillator). You've probably seen the machines in stations, convenience stores, police boxes and even some vending machines. Basically if somebody has collapsed and is showing no vital signs the machine will talk you through the steps needed to get their heart going again.
Now it's time to feel the earth move courtesy of the Earthquake Simulator Room. The room consists of a mock up of a typical Japanese kitchen, albeit with some foam cupboards, onto which level 5+ to level 7 (the maximum) earthquakes can be simulated. For me, and a few of the others, it brings back memories of 3.11, and that feeling utter powerlessness in the face of natural forces. The main point to take away from the simulator is to look after your own safety first i.e. get under the table, and once the shaking has subsided then turn off the gas and wedge open any doors that may help you escape.
The final hands on activity is a visit to the Smoke Maze Room, no not a chance for a crafty cigarette break, but a smoke filled maze of corridors and doors to be navigated in thick smoke.
To finish the training session off we head for the Mini Disaster Education Theatre to watch a video showing the destruction of 11th March 2011 Tohoku earthquake and the lessons learned from this and previous large earthquakes. There's lot of previously unseen footage which really brings home the scale of the disaster but there's also hope in that after each major earthquake Japan has used the lessons learnt to improve its level of preparedness for future disasters.
All in all it was a very informative and fun morning and I feel we all learnt something. If you ever have the chance to take part in disaster training, take it; a little learned now could make a big difference in the future.
Further information
Our final two disaster prevention events for the British community will be held on Friday 7 February in Honjo, Tokyo and Saturday 8 March in Matsudo, Chiba. If you are interested in attending these free events, please contact the consular section to register consular.tokyo@fco.gov.uk
Published 3 February 2014