Press release
Purple Flag flies high over government building
The Purple Flag flies over the Department for Communities and Local Government to celebrate Britain's safe and thriving evening town centres.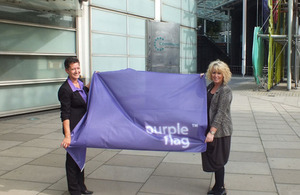 The flag was raised above the Department for Communities and Local Government to mark the start of a week long national high street campaign by Purple Flag Champion Baroness Newlove and Shanaaz Carroll, Deputy Chief Executive, Association of Town and City Management.
The Purple Flag accreditation scheme is a "gold standard" for town centres at night - similar to the Blue Flag for beaches - and recognises excellence in managing a thriving, vibrant early evening atmosphere and that a town centre is safe after 5pm.
First launched nationally in 2009, Purple Flag aims to improve the public profile of early evening town centres and confidence they offer a safe night out by lowering crime and anti-social behaviour by making clean, safe and inviting environment a criteria for obtaining a flag. There are now a record number of 42 Purple Flag locations across the country with the number continuing to grow.
As part of the week, towns and cities across the UK, including over 30 existing Purple Flag locations, will host various activities including parades, markets and a digital treasure hunt to highlight the contribution evening economies makes to their communities and the UK as a whole. The week runs from 21 to 29 September 2013.
Baroness Newlove, Purple Flag Champion said:
I'm absolutely delighted to be Purple Flag Week Champion. I believe the scheme is making a positive impact, helping to create better, safer nights out for everyone and in tackling issues such as crime and anti-social behaviour is helping to turn around the perceptions of the night time economies of many of our towns and city centres. I am looking forward to the different activities throughout the week and hope that others will see the value in participating in the Purple Flag Scheme.
Local Growth Minister Mark Prisk said:
The government has put in place a wide range of measures to help high streets thrive. This includes tripling the total business rates discounts for small shops to £900 million, cutting their National Insurance and their corporation tax, simplifying the planning system and scrapping unfair rules around parking charges. It is clear that our high streets will need to change to prosper. There is already great work being done across the country to revitalise the town centres, but it needs to spread further faster.

Councils, other civic leaders and local business must decide what their high street will look like in the future and work together to achieve it. So its great they are working with the Association of Town and City Management on Purple Flag week as it is a fantastic way to showcase the quality, diversity and vibrancy of safe town centres who stay open late to catch the modern consumer, help high streets prosper and contribute billions of pounds to the early evening economy.
Shanaaz Carroll, Deputy Chief Executive, Association of Town and City Management said:
Now in its second year, Purple Flag Week has really taken off as a celebration of safe, diverse and vibrant evening and night time economies. For a town or city to achieve the Purple Flag accreditation takes great effort and strong partnership working, and it is this spirit of hard work and partnership that is now being exchanged between Purple Flag Places across the UK and Republic of Ireland to ensure the vitality and ongoing viability of town and city centres after 5pm.
Further information
See further details about Purple Flag week.
Published 25 September 2013