Pupils who fall behind in English and maths to get intensive catch-up classes
Intensive catch-up tuition for all pupils who start secondary school without having achieved required levels in English and maths.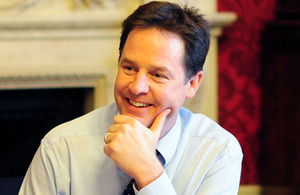 The new catch-up premium will help almost 110,000 pupils this year to receive additional help in literacy and numeracy and stop them falling further behind at a critical juncture in their education.
Secondary schools will receive an additional £500 for every Year Seven pupil who has not achieved at least Level 4 - the expected level - at Key Stage 2 in reading or maths. The money will be used by schools to deliver additional tuition or intensive support in small groups, giving pupils valuable support to bring them up to speed so that they are more likely to succeed at secondary school.
Evidence shows that pupils who are behind in English and maths when they start secondary school will struggle to achieve GCSEs. Only 30 per cent of those not achieving Level 4 in reading at the end of primary school go on to get 5 A* to C at GCSE. For pupils on free school meals this drops to seven per cent.
Deputy Prime Minister, Nick Clegg, said:
Secondary school is a massive step up for pupils when much bigger demands are placed on their abilities. For tens of thousands of children, this is all the more daunting because they are simply not equipped with the basics of English and maths needed to unlock the variety of subjects now on offer to them.

Pupils who start secondary school behind their peers should be given every chance to catch up as quickly as possible. The funding I'm announcing today will allow schools to provide intensive tuition to help pupils to get up to speed and so get the best out of their secondary school education.
Pupils who fall behind their peers can become de-motivated and if teaching is not properly tailored to their needs this can translate into behaviour problems which can disrupt the rest of the class.
The catch-up premium will be given to schools for children who have not achieved Level 4 at Key Stage 2 in either or both reading or maths. In 2012, 13 per cent of pupils in all schools failed to gain a Level 4 in reading and 16 per cent failed to achieve this in maths. In all, 109,000 pupils in state schools will benefit from the catch-up premium this year.
Funding will be allocated to schools in January and will be guaranteed every year for the rest of this Parliament.
Published 26 September 2012