Press release
Publication of the latest statistics on animal research and the animals in science regulation unit annual report 2011
Annual statistics on the use of animals in scientific research in Great Britain have been published today by the home office.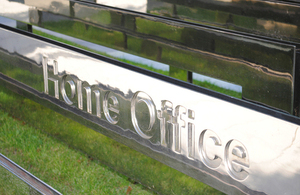 The 'statistics of scientific procedures on living animals 2011', compiled from returns provided by 100 per cent of project licence holders, shows just over 3.79 million scientific procedures were started in Great Britain in 2011, increasing 2 per cent (+68,100) since last year. Breeding of genetically modified animals and harmful mutants, mainly mice, remained stable accounting for 1.62 million of procedures. Further statistical highlights can be found below in the notes to editors.
The animals in science regulation unit (ASRU) have also published their annual report for 2011. The report provides a collective account of the activities of the home office regulation of animal testing.
Home office minister Lynne Featherstone said:
'The report shows the important work being done in this country to regulate animal procedures and to ensure the UK's high standards of animal protection are upheld.
'While we recognise the need to use animals in order to help develop potentially life-saving drugs and treatments, we are also working to reduce the use of animals in research.
'As part of this ongoing work, we will continue to promote measures that will 'replace, reduce and refine' the use of animals in scientific testing.'
The animals scientific procedures act 1986 regulates the use of animals in scientific experiments and ensures their use is limited to only where there is a clear potential benefit to either people, animals or the environment; and when there is no means of obtaining these benefits without animal use, or at a lesser animal welfare cost.
All scientists and researchers undertaking animal research in the UK are required to take into account the '3Rs' (measures to replace, reduce, and refine animal use) when devising their programmes of research proposals. When work is licensed, all reasonable steps must be taken to minimise the numbers of animals used and any suffering likely to be caused.
Notes to editors
1. Excluding the breeding of genetically modified (GM) and harmful mutations (HM) animals, the total number of procedures increased in 2011 (an increase of +71,300 or +3%, from 2.10 million to 2.17 million).
2. There were increases in numbers of procedures for several species, for example cats (+26%), pigs (+37%), birds (+14%) and fish (+15%). There were falls for several species, for example rats (-11%), guinea pigs (-16%), dogs (-21%), and non human primates (-47% with new world monkeys -68% and old world monkeys -41%).
3. There was an increase (+2%) in the numbers of procedures for safety testing (toxicology) to 399,000, with a higher proportion carried out to meet more than one legislative/regulatory requirement (75% compared with 72% in 2010). Most toxicology procedures are carried out in the commercial sector where the number of procedures also rose (+1%).
4. The number of non-toxicology procedures increased 2 per cent to 3.39 million, reflecting the higher numbers of procedures carried out in universities (+7%), particularly fundamental research. The increase for non-toxicology included increases in physiology (+115,100), immunology (+62,000), parasitology (+22,000) whilst ecology (-30,300), anatomy (-27,000), biochemistry (-11,900) and cancer research (-10,200) fell.
5. There were 1.08 million more procedures than in 2000 (+40%) mostly accounted for by breeding to produce GM and HM animals (+918,000, of which mice +795,000). Excluding such breeding, the total number of procedures was slightly higher than in 2000 (+8% or +159,900).
6. Statistics of scientific procedures on living animals 2011 can be found at: http://www.homeoffice.gov.uk/publications/science-research-statistics/research-statistics/other-science-research/spanimals11/
7. The ASRU annual report can be found at: http://www.homeoffice.gov.uk/science-research/animal-research/
8. The ASRU operates the licensing system on behalf of the secretary of state and provides policy advice and support, whilst the statutory role of the ASRU Inspectorate is to advise on proposals for work under the animals scientific procedures act 1986 and to monitor compliance with authorities under that act.
9. The annual report also details work done on the European directive on the protection of animals used for scientific purposes. The directive aims to strengthen and harmonise the regulation of the use of animals used in scientific experiments across Europe. The UK must transpose EU directive 2010/63/EU by 10 November 2012 with national legislation being implemented from 1 January 2013.  Read the written ministerial statement on the transposition of the EU directive.
10. For further enquiries please contact Hannah McCarthy on 020 7035 3535 or Hannah.mccarthy1@homeoffice.gsi.gov.uk
Published 10 July 2012