Press release
Publication of DWP research report no. 657: 2009 Jobcentre Plus Customer Satisfaction Research; findings from quantitative and qualitative research
Findings of the 2009 Jobcentre Plus Customer Satisfaction Research.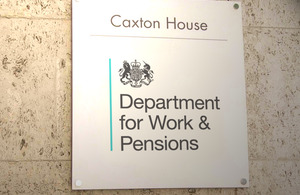 A report is published today by the Department for Work and Pensions on the findings of the 2009 Jobcentre Plus Customer Satisfaction Research.  The research was undertaken to provide an assessment of satisfaction with Jobcentre Plus services and involved a quantitative survey of customers and qualitative follow-up research.
Some of the key findings include:
75% of Jobcentre Plus customers were satisfied overall with Jobcentre Plus services. 12% were dissatisfied, 11% were neither satisfied nor dissatisfied and 2% didn't know.
Although direct comparisons with the 2007 survey are not possible due to the differences in methodology and sample design, analysis indicates that there has been no substantive change in overall satisfaction since 2007.
Income Support customers were the most satisfied (82%) followed by Incapacity Benefit (75%) and Jobseekers Allowance (68%) customers.  Qualitative research with ESA claimants found that being treated well by staff has an important bearing on satisfaction, whilst delays in the claim process (e.g. waiting for a decision or appointment) can cause dissatisfaction.
17% of customers had felt like complaining about the service received.  Of these, 20% made a complaint and 11% intended to.
82% of customers who had visited a Jobcentre Plus office in the previous 12 months were satisfied with the office conditions.
The qualitative research found that where there was dissatisfaction this was usually only in respect to a single aspect of the service delivery with all other aspects being positively viewed.
Notes to Editors:
The DWP research report '2009 Jobcentre Plus Customer Satisfaction Research; findings from quantitative and qualitative research' will be published on 1st July 2010.
The research involved three elements, all three of which were undertaken during the recession: a. A representative quantitative survey of 4,125 Income Support (IS), Incapacity Benefit (IB) and Jobseeker's Allowance (JSA) customers (July-October 2009); b. Qualitative follow-up research with Jobcentre Plus staff and customers to further investigate issues from the survey (October-December 2009); c. A qualitative study of customer satisfaction amongst claimants of Employment and Support Allowance (ESA), involving 30 depth interviews (August-November 2009).
TNS-BMRB conducted the research. The report authors are Dr Andrew Thomas, Nick Coleman, Jenny Turtle, Sarah Bone, Claire Bassett and James Mason.
Published 1 July 2010